The Fact News Service
Chandigarh, January 24
In the presence of Social Security, Women and Child Development, Social Justice, Empowered and Minorities Minister Dr. Baljit Kaur, Kanwardeep Singh today assumed charge as the Chairman, State Child Rights Protection Commission at Forest Department, SAS Nagar.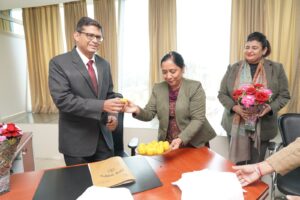 Speaking on this occasion, Cabinet Minister Dr. Baljit Kaur said that the Aam Aadmi Party had promised to the people at the time of elections that honest, fair and forward-thinking leaders would be encouraged in Punjab and the appointment of an honest leader, Kanwardeep Singh, as the Chairman of the State Child Rights Protection Commission is also a part of this thinking.  Kanwardeep Singh would act as a bridge between the government and institutions for effectively implementation of child-friendly policies.  Congratulating Kanwardeep Singh, Dr.  Baljit Kaur assured her every support in the implementation of various government schemes to ensure the welfare of children.
Kanwardeep Singh while thanking  Chief Minister Bhagwant Mann and senior leadership for showing faith in him and said that he will fulfill to the best of his abilities and responsibilities assigned to him.  Pertinently, Jalandhar-based Kanwardeep Singh is also an entrepreneur and a social worker.