The Fact News Service
Amritsar, August 14
In order to ensure peace and harmony in the state as per the directions of Chief Minister Bhagwant Mann, Punjab Police in joint operation with Central Agencies have busted yet another terror module being operated by USA-based wanted gangster Harpreet alias Happy with the arrest of five operatives after recovering two foreign-made 9mm pistols along with ammunition from their possession, said Director General of Police (DGP) Punjab Gaurav Yadav here on Monday. Gangster Harpreet Happy is in touch with Pak-based wanted terrorist Harwinder alias Rinda and USA-based wanted terrorist Goldy Brar.
The development came on the eve of Independence Day and a day after Punjab Police had busted a terror module being operated by Czech Republic (Czechia)-based Gurdev Singh alias Jaisal with the arrest of its three associates after recovering three pistols along with ammunition from Tarn Taran.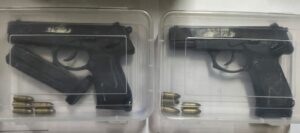 Those arrested have been identified as Gurinder Singh of Lakhuwal in Amritsar, Gurpinder Singh alias Lahoria of Ajnala in Amritsar, Lovepreet Singh of Ajnala in Amritsar, Narinder Singh of Sundal Riali in Gurdaspur and Sukhmanpreet Singh alias Jeevan of Ajnala in Amritsar.
DGP Gaurav Yadav said that following inputs that Gangster Harpreet Happy on the directions of Terrorists Harwinder Rinda and Goldy Brar planning to target prominent political and socio-religious leaders in the state through his newly formed gang of criminal-minded people to disturb the peace and harmony, Counter Intelligence in coordination with Central Agencies carried out a special operation.
On the basis of reliable inputs that the operative of Gangster Harpreet Happy, who is in possession of weapons, is expected to hold a meeting in Amritsar, a special team of SSOC Amritsar immediately rushed to the area and cordoned it off in a planned manner resulting in the arrest of five operatives of this module after recovering weapons from their possession, said AIG SSOC Amritsar Sukhminder Singh Mann, while adding that the arrested accused persons were hatching a conspiracy to carry out target assassinations in the state.
Sharing preliminary investigation details, the AIG said that the arrested persons has recently received a drone-delivered weapon consignment through the Indo-Pak Border arranged by Gangster Harpreet Happy with the help of Harwinder Rinda.
The accused persons have also been receiving financial aid sent by Harpreet Happy through various channels, he said, while adding that it has also come to light that they have conducted a recce of Punjab-based targets defined by Gangster Harpreet Happy. Further investigations are being carried out to unearth the entire terror network and to trace the channels via which Harpreet Happy arranged weapons consignment as well as financial aid for his associates, he added.
An FIR No. 25 dated 12.08.2023 has been registered under sections 13, 17, 18 and 20 of the Unlawful Activities (Prevention) Act, sections 115 and 120-B of the Indian Penal Code (IPC) and section 25 of the Arms Act at Police Station State Special Operation Cell Amritsar.