The Fact NewsService
Chandigarh, June 2
The Indian Junior Hockey team won the Junior Hockey Asia Cup played in Salah, Oman. India won the Junior Asia Cup for the fourth time by defeating Pakistan 2-1 in the final match played last night.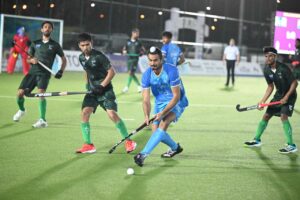 With this, India became the first country to win the tournament the most (four times) so far. Earlier, India won the Junior Asia Cup in 2015, 2008 and 2004.
Punjab Sports Minister Gurmeet Singh Meet Hayer congratulated the entire Indian team on this title victory and said that the boys have brought great pride to the country by displaying an excellent game. The victory of the Indian team in this junior competition of Hockey game shows that the future of India in Hockey is in safe hands. He said that it was a victory of the team's joint efforts and every player showed better performance. The Indian team's performance throughout the tournament was commendable. Meet Hayer also wished the Indian team All The Best for the Junior World Cup to be played at Kuala Lumpur in December this year and hoped that the Indian team would perform well.
It is worth mentioning that in the Junior Asia Cup played at Salah, the Indian team stood first in Pool A with 10 points in four matches in the group stage. India defeated South Korea by 2-1 in the Semi Final match and defeated Pakistan in the Final by 2-1.
 Angad Singh scored field goals in the 13th minute and Araijeet Singh Hundal in the 20th minute. Araijeet Singh Hundal was the second top scorer in the tournament with 8 goals. India's goalkeeper HS Mohith was declared the best goalkeeper of the tournament.