P.S.Walia
Sultanpurlodhi, November 13
National Green Tribunal(NGT) Chairperson Justice A.K.Goel today said that effluent discharge of industries and sewage water of towns , cities and villages are polluting not only our sacred river Ganges but all the rivers of the country.
Talking to media persons after the seminar on environment at the dera of renowned environmentalist and AAP Rajya sabha member Sant Balbir Singh Seechewal , Justice Goel criticised the state governments for its failure to find suitable solution to the solid waste and sewage water management which is endangering the human life and also destroying the environment.
Lambasting at seven states through which the river Ganges passes, Goel said centre had allocated rupees 25 thousand crore under the mission clean ganga to the respective state governments but no state government has so far has taken concrete steps to stop the flow of dirty water and industrial effluents into sacred river Ganga. Coming down heavily on the concerned state Governments NGT has directed the state governments to give the expenditure report to the Prime Minister who is the head of Ganga clean mission .
He disclosed that Air and water quality has deteriorated to the extent that it is at alarming stage and it is the duty of every individual to take responsibility to clean the environment and stood against the violators who pollute it. He said imposing penalties of several thousand crore on the state government by NGT would not be suffice to control the pollution until public awaken themselves and raise their voice against it.
Earlier addressing a seminar on environment safety, Justice Goel lauded the efforts of Sant Seechewal for its endeavour to clean the sacred Bein and stressed the need to adopt Seechewal model to save the water and air .
He unequivocally appealed people to come forward to clean the environment at their own as alone government machinery could not do it.
Punjab Haryana High court retired Justice Pritam pal said that people should stood against the violators of polluting industries to save the environment from pollution.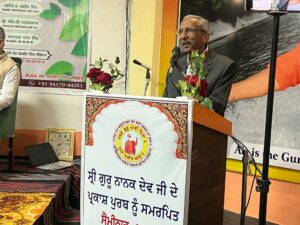 Punjab and Haryana High Court retired Judge Justice Jasbir Singh who is the chairman of Punjab NGT also gave clarion appeal to the public to make environment an issue for sake of their lives and future generation.
Punjab Former Chief Secretary S.C.Aggarwal who is also senior member of NGT to segregate the daily waste of the houses into two bins and adopt self management of the waste as a solution to the rising pollution in the country.
Punjab pollution Control Board Chairman Adarsh Pal Vij and Sant Seechewal also addressed the seminar.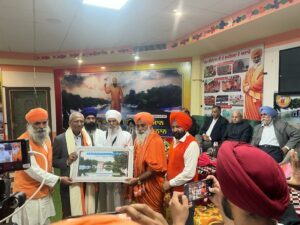 Seechewal honoured the chairman and all dignitaries on this occasion.
Chairman also visited Gurdwara Ber Sahib and paid obeisance there and also visited the bein to see its cleanliness work done by Seechewal.