The Fact News Service
Chandigarh, May 31
Punjab Chief Minister Bhagwant Mann on Wednesday envisioned that the 'Schools of Eminence' set up across the state by his government will act as the harbingers for ensuring a bright future for the students.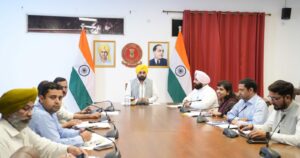 Interacting with the students of the ninth standard studying in the Schools of Eminence across the state, the Chief Minister said that these schools are a new experiment in the state aimed at ensuring the holistic development of the students. He said that this is a step forward towards providing a good learning experience for the students to excel in various fields. Bhagwant Mann said that equipped with ultra-modern infrastructure these schools provide the best quality education to the students.
The Chief Minister said that his government is making concerted efforts to strengthen the education sector in the state. He said that 117 Schools of Eminence have been set up in 23 districts of the state to provide quality education to the children. Bhagwant Mann said that these schools are focusing on grooming the students for five professional and competitive courses including engineering, law, commerce, UPSC, and NDA.
The Chief Minister asserted that these schools will set a new benchmark in quality education adding that the results of these schools will be the dawn of a new era in school education.
He said that the state government will felicitate the best-performing schools of eminence across the state. Bhagwant Mann exhorted the students to work hard for carving a niche in various fields in the international arena.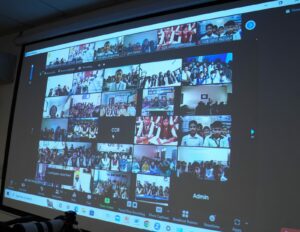 During the virtual meeting, the Chief Minister also asked the students about their experience in the school. Bhagwant Mann also said that he will be holding such meetings regularly to take feedback from the students about the education being imparted to them.
He also called upon the students to express their views freely without any fear adding that they can also list any complaint or shortcoming, if any, being faced by them.
The Chief Minister also said that the state government will ensure frequent study tours for the students at places of importance across the state.
He said that this will help the students to acquaint themselves with the rich cultural legacy of the state besides noticing the advancements being made by the state in varied fields adding that this will help in the personality development of the students.
Congratulating the students for the upcoming holidays, Bhagwant Mann asked them to utilise these holidays for updating their education.