The Fact News Service
Chandigarh/Amritsar, March 27
Laying the foundation stone of the skywalk project with Gurudwara Shaheedan Sahib, Amritsar at a cost of about 60 crore rupees, the Minister of Local Government Dr.  Inderbir Singh Nijjar said that the completion of this project will bring great relief to the Sangat who come for the darshan of Shaheedan Sahib. The Sangat has to cross the road to go to the Gurdwara, which not only causes inconvenience but also causes traffic jams.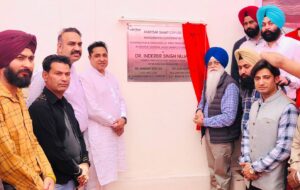 He said that the project includes multiple foot over bridges, skywalk plaza in front of Gurudwara Shaheedan Sahib as suitable crossing facility for pedestrians and pick-up points. The plaza will have a cluster of entry/exit points through stairs, escalators, lifts for ease of pedestrian movement. He said that this project will ensure the safety and convenience of pilgrims.
 On this occasion, Corporation Commissioner Mr. Sandeep Rishi said that provision of facilities like toilets for pilgrims, tourist information center and police post in the skywalk project will ensure safety and convenience for the congregation. He said that the plaza will be developed through landscaping and beautification which will increase its efficient use. He said that the length of this skywalk from Ramsar Gurdwara to Chatiwind Chowk will be 460 meters, width 6 meters, height 6 meters from the road, Skywalk Plaza will have 16 stairs, 16 escalators and 7 lifts. He said that this project has to be completed by the company within one and a half years.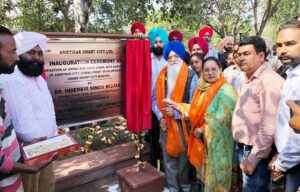 Before this,  Dr.  Nijjar inaugurated a nice picnic spot with a hydropower plant built during the British period near the Tara wala bridge under the UBDC project. It is decorated with a picnic, exercise, swings for children, open gym, colorful lighting and beautiful gardening. He said that under the Smart City Mission, a mini company garden has been built on about 3.5 acres of land at a cost of Rs 5.5 crore, which has become a center of attraction for people.
 After this  Dr.  Nijjar while inaugurating the waste processing plant built at a cost of five crore rupees under the Smart City at Fatehpur in the Central Constituency, said that no charges will be taken for delivering the waste generated during residential and commercial construction in the city to the C&T Plant.  He said that challans will be issued for throwing debris around the roads and this debris can be used again for construction works.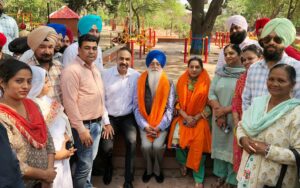 On this occasion, MLA Jeevan Jot Kaur, MLA Dr.  Ajay Gupta, SE: S: Sandeep Singh, SDO  S: Anudeepak Singh, OSD. Manpreet Singh, Navneet Sharma and a large number of people were present.