Kapurthala, January 8
Rail Coach Factory (RCF) here has commenced the production of advanced vistadome narrow gauge coaches following successful oscillation trials of two prototype coaches on Kalka-Shimla heritage track in December last year.
The RCF is likely to roll out four of these coaches by the first week of February this year, said RCF General Manager Ashesh Agrawal told PTI here.
The see-through vistadome coach with transparent roof and doors offers a 360-degree scenic view of the surroundings.
He said initially four vistadome coaches which include AC executive car (12 seats), AC chair car (24 seats), Non-Ac chair car (30 seats) and one power cum luggage and guard car will be manufactured and handed over to Research Designs and Standards Organisation for trials on 96 km Kalka-Shimla rail track.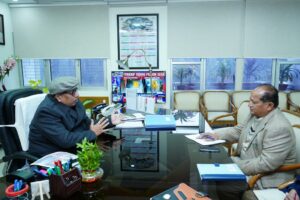 After clearance from commissioner Railway Safety these coaches would be put into service for which date of its launch and flagging off would be decided by the Railway Board, he said.
Agrawal said that the Railway Board has ordered RCF to manufacture 30 vistadome coaches for Kalka-Shimla rail line and has also given the nod to manufacture vistadome coaches for Kangra valley rail track.
The British laid the first rail link to connect Shimla in 1903. In 2009, the Kalka-Shimla rail track was declared a World Heritage site by UNESCO.
There are 103 tunnels on the rail line, besides 800 bridges, 919 curves and 18 railway stations.
Giving details about the salient features of the vistadome coaches, the GM said that these coaches would have a look like world's most advanced coaches of Switzerland's Bernina Express train which runs on high mountainous rail track.
These coaches will have panoramic windows, light weight shell with upgraded bogie with improved braking system and are also equipped with modern safety features like CCTVs and fire alarms besides aesthetic plush interiors equipped with noise and vibration proofing, anti-UV coated widow glasses, power window in upper class, powered doors, heating- cooling package AC, linear concealed fans,linear LED lights, modular seating rail mounted with flip backs, restaurant seating with luxury seats for executive class , on board mini pantry among other features.
Each vistadome coach will cost approximately Rs 1.3 crore, GM said.
Replying to a question, he said these coaches are capable of running at a high speed than the existing coaches (present 25 kmph) run on the narrow gauge but due to sharp curves and old track speed could not enhanced much.
Meanwhile, he said RCF will also roll out five prototype LHB design high speed AC coaches having 120 seats to replace Non AC general class coaches to afford cheap travel to poor rail passengers by the end of March this year.
RCF is also working on the project to manufacture 20 cargoline double decker coaches which can carry more than 50 passengers and six tonnes of cargo in a chamber beneath the seats.
He said it would help in the fast movement of cargo and would also prove economically viable during the lean season of rail passengers. He said the prototype coach would be rolled out by the month of April this year .
RCF, one of the largest manufacturer of coaches in the world, has been accredited with International Railway Industry Standard silver certificate for quality manufacturer in the world.
The GM claimed that out of 2000 rail companies, only 118 rail manufactures have been awarded with this quality certification.
RCF has rolled out 1200 coaches of different variants mostly AC coaches by the end of December last year and is likely to achieve the target to manufacture 1860 coaches during this financial year.
RCF is also working on the project to manufacture coaches for Jammu and Kashmir railway, he said.