The Fact News Service
Jalandhar, October 2
Exhorting the people to tread on the great teachings of Bhagwan Valmiki Ji, the Punjab PWD & Power Minister Harbhajan Singh ETO on Saturday joined the devotees here at local Ali Mohalla at the start of 'Vishal Tirath Yatra' dedicated to Bhagwan Valmiki Jayanti.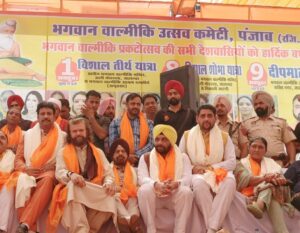 In his address before starting long religious procession under the yatra to Bhagwan Valmiki Tirath Sthal, Ram Tirath, Amritsar organized by Bhagwan Valmiki Utsav Committee, the Minister emphasized that all of us should follow the path shown by Bhagwan Valmiki Ji to carve out an egalitarian society. On this sacred occasion we should vow for ensuring education to all children, which will be the real tribute to Bhagwan Valmiki Ji. He said Punjab Government led by CM Bhagwant Mann was committed by making all out efforts for holistic development of underprivileged sections of society.
Meanwhile, the Minister accompanied by Chief Editor Ajit Group of Publications Barjinder Singh Hamdard, MLAs Raman Arora, Sheetal Angural and Balkar Singh besides Members Parliament Hans Raj Hans & Chaudhary Santokh Singh and organizers Vipan Sabharwal & others started the tirath yatra proceeded towards Ram Tirath, Amritsar.
Religious personalities Sri Pargat Nath Ji, Sant Nirmal Dass Ji Babe Jaure and devotees from different parts of the state were also present on the occasion. Pertinently a long procession of devotees in buses, cars and other vehicles left for tirath yatra from Ali Mohalla.
CAPTIONS: PWD Minister Harbhajan Singh ETO, S Barjinder Singh Hamdard, MP Hans Raj Hans, MLAs Raman Arora, Sheetal Angural & Balkar Singh while starting the Tirath Yatra for Ram Tirath from local Ali Mohalla on Saturday.
PWD Minister Harbhajan Singh ETO addressing before starting Tirath Yatra at Ali Mohalla on Saturday.
PWD Minister Harbhajan Singh ETO and others at the main stage at Ali Mohalla on Saturday.