The Fact News Service
Chandigarh, March 2
Punjab Vidhan Sabha Deputy Speaker Jai Krishna Singh Rouri honoured the members of "Bharat Di Shan Diamond Award" winning International Darer Khalsa Gatka group.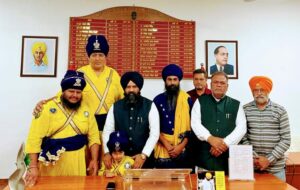 Appreciating the efforts of internationally renowned Gatka Group, the Deputy Speaker said that members of the Gatka Group has brought laurels to the state of Punjab by winning the coveted award thus deserve accolades. He said, there is no shortage of talent in Punjab and only need is to recognize the talent.
The Deputy Speaker further said, the Punjab government was doing commendable work in this direction and continuously providing government jobs to the youth of the state as per their ability. He expressed hope that the day is not far when Punjab will gain it's numero uno spot in every sphere and erstwhile glory of Punjab will be restored.
MLA Nawanshahr Dr. Nachhatar Pal, Dr. Kashmir Singh Dhillon, Hardeep Singh Kalam Gahun, Charanjit Singh Channi, Balvir Singh Billa Kharoudi, Jathedar Nanak Singh of Daler Khalsa Gatka Group, Ranvir Singh, Sukhdev Singh Sukha Baba, Paramveer Singh Labhi, Baljot Singh, Gursewak Singh and members of the International Daler Khalsa Group were present on this occasion.