The Fact News Service
Chandigarh, September 30
The Department of Industries & Commerce, Punjab has organized an Orientation Program on Value Chain and Cluster Development for General Managers, District Industries Centre and Industrial Associations of the State under the MoU signed between Punjab Government and Small Industries Development Bank of India (SIDBI) to strengthen MSME ecosystem in the State.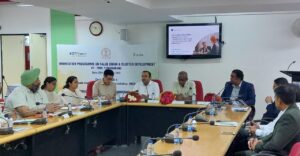 Focus area of the training was to get benefits from the schemes offered by the Government of India and accelerate the development of MSMEs in the state of Punjab through developing hard infrastructure. While inaugurating the program, Principal Secretary Industries & Commerce, Punjab Dilip Kumar stressed upon the significance of such programs for the acceleration of MSMEs. Secretary-cum-Director, Department of Industries & Commerce, Punjab Sibin C also marked the importance of such Orientation Programs for industries to this State's economic development. Renowned Industry Expert Prof. V Padmanand, Partner, Grant Thornton Bharat explained about the concepts of cluster development approach and value chain for the MSME development in the State. He also mentioned about the benefits of hard infrastructure and role of Industrial Associations in the development of the State. Joint Director, DIC Vishav Bandhu explained about the latest initiatives of the department to improve the ecosystem of the industries in the State.
About 115 officers from the department including Additional Directors, Joint Directors, Deputy Directors, Assistant Directors, General Managers, Functional Managers, Project Managers, Business Facilitation Officers and members of Industrial Associations attended this event physically as well as virtually.