The Fact News Service
Chandigarh, November 25
Director General (Central), Chandigarh, one of the field office of Comptroller General of India organized an Interaction with HoDs of various departments of UT & Government of India stationed at Chandigarh. Governor of Punjab and Administrator of Union Territory, Chandigarh, Banwarilal Purohit, and Speaker, Haryana Vidhan Sabha, Gian Chand Gupta, graced the occasion as Chief guest and Guest of Honour, respectively. The Police band and the presence of Cavalry police personnel added a flavour of discipline to the evening.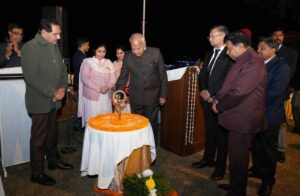 Purohit, gave away token of appreciation to the outstanding staff members for their valuable services and appreciated the role of CAG and its offices in nation-building. Sanjeev Goyal, Director General (Central), reiterated that the event has been organized to apprise the stakeholders about the fast-changing examination areas of audit i.e. smooth shift from being a fault finder to partner in implementation of various programmes and Schemes of GoI.
This role of CAG has assumed greater importance as more and more budget is flowing to social sector Schemes to achieve 17 Millennium goals of UN to which India is also signatory along with already ongoing schemes of Govt. Sanjeev Goyal also said, "Monitoring and evaluation is major gap in implementation of schemes and C&AG as an organisation is focusing more and more on social programmes with the aim of advising the executive towards effective implementation of such programmes so that outcome envisaged are achieved in time."
The outreach and extent of Govt Schemes have increased multiple time mainly with use of Information Technology such as Direct Beneficiary Transfer platform, geo mapping etc. C&AG is also evaluating the impacts of such programmes by using latest tools for auditing in digital environment both in revenue and expenditure sides.
On 16th November, 2022; Vice President of India, Jagdeep Dhankhar inaugurated the Audit Diwas which is celebrated to mark the historic origin of the Institution of the Comptroller General of India & the contribution it has made to the good governance, transparency & accountability over the past several years. It commemorates the day the first Auditor General took charge of CAG's office in 1860. Over the period, the role of the CAG has evolved to assume wider responsibilities to strengthen democracy & governance of the Country.
CAG of India is the apex authority responsible for audit of the receipt and expenses of the Central and State Governments. It is established in accordance with Article 148 of the Constitution of India and is the statutory auditor of Government-owned Corporations. It also conducts supplementary audits of government companies where the Government is having equity share of 51% or higher.