P.S.Walia
Kapurthala, January 16
Punjab Chief Minister Bhagwant Mann today made surprise checking of central jail at Kapurthala to know the condition of 3500 inmates lodged in central jail here this afternoon.
CM met inmates in their barracks and listened to their grievances and most of the inmates complained to the CM that they were languishing in jail for petty offences and could not get even bails due to delayed court proceedings according to jail officials.
CM during a brief interaction with media persons outside the jail main gate said that inmates were complaining about the delayed court proceedings due to frequent adjournments in the cases as jail authorities failed to produce them before the courts in time and refusal in the grant of bails. After hearing their complaints, CM ordered the jail authorities to immediate start video conferencing of inmates before the Judges for their speedy trials.
He also addressed the complaint of poor medical facilities in the jail and ordered the health department to depute permanent doctors for their treatments and deploy one van for emergency treatment.
CM who spent more than one hour in the jail also addressed the inmates through radio Ujala set up in the jail for the entertainment of inmates and asked them to join the mainstream leaving behind dark days.
He told media persons that government would put the inmates in the skilled jobs like making of LED and other allied works to generate their income so that they could render financial help to their families .
CM who holds the jail portfolio told that jails in Punjab were over crowded and state government has asked the ministry of home affairs for setting up more jails in the state adding that some of jails in Punjab are located within the municipal limits and need its shifting.
CM also asked the jail authorities to submit proposals for installing more CCTV's for better surveillance of the activities of inmates. Mann also sought a report from all the jails in Punjab about the jail inmates who have failed to deposit bail bonds because of their poor financial conditions and were languishing in jails.
CM kept his surprise visit close secret and even the district authorities were unaware of his visit to the jail.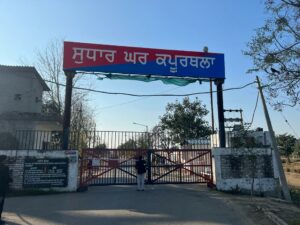 Jail Superintendent Iqbal Singh Dhaliwal told that there are 3500 inmates against the capacity of 2900 inmates and jail authorities recovered 596 mobiles from the jail inmates during checking in a year.