The Fact News Service
Patiala, August 15
Giving a healing touch to the residents of the state who have been adversely affected by scourge of recent floods, the Punjab Chief Minister Bhagwant Singh Mann on Tuesday initiated the process to hand over cheques of compensation to them for their loss.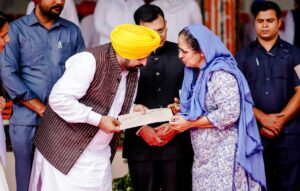 Addressing the gathering during a state-level function to mark Independence Day here today, the Chief Minister said that the compensation has been assessed after the Special Girdawari conducted meticulously across the state. He said that the Punjab government is duty-bound for compensating the people in wake of floods across the state. Bhagwant Singh Mann said that there is no dearth of funds with the state government for this purpose and every effort will be made to give relief to the flood-hit people.
The Chief Minister said that he had himself took first hand information by visiting the marooned areas of the state and now no stone is being left unturned for giving succour to people of flood-affected districts. He said that realizing whopping loss of people special Girdawari was ordered to ascertain the loss incurred to people due to floods in the state. Bhagwant Singh Mann said that the officers have been directed to ensure that the Special Girdawari is completed by August 15 by all means.
The Chief Minister said that every loss of crop, cattle, house or anything has been covered in the special girdawari to fully compensate the people for this colossus loss. He bemoaned that 1495 villages in the 19 districts of the state have been affected badly by floods. Bhagwant Singh Mann assured the people that his government will compensate the people for loss of every single penny incurred by them during the floods.