The Fact News Service
Chandigarh, January 16
The Registration time for the PGIMER's general OPD and special clinics in the morning has been extended by one hour. The new timings for registration will be 8 am to 11 am. (Monday to Friday) & 8 am to 10.30 am (Saturday).
Registration for special clinics in the afternoon will be done from 2 pm to 3 pm.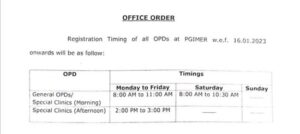 The changes have been introduced taking into consideration the increasing number of patients visiting the various OPDs of PGIMER. This will decrease the waiting time for patients and streamline the flow of patients.
However emergency services will continue as before, the PGI stated.