The Fact News Service
Gujarat, November 30
Giving an example of the existing model in Delhi and Punjab, Chief Minister Bhagwant Mann on Wednesday announced that people of Gujarat will get round-the-clock free electricity up to 300 (kWh) units per month for household consumers from March 2023, if the Aam Aadmi Party (AAP) is voted to power in the state.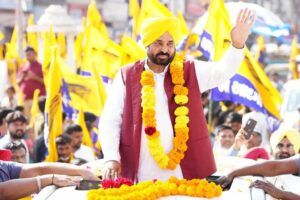 Presenting the electricity bills of 'Zero Bill' of 25, 000 consumers of Punjab during a press conference here, CM Mann said that AAP does not make bogus claims and whatever AAP promises, they deliver to people unlike BJP which fooled people with 15 lakh 'jhumla' and other poll promises. He said that out of 75 lakh households, 61 lakh got 'zero bill' in November in Punjab and over 71 lakh will avail benefit of free electricity in January due to winters and less consumption of electricity. Similarly, people of Delhi get free power and this benefit will be given to people of Gujarat after AAP forms government in the state.
Training guns at Bharatiya Janata Party (BJP) for 'revdi culture' remarks, CM Mann said that giving taxpayers' money back to them cannot be called extending 'revdi' (freebies). He said that AAP is a pro-people and pro-poor party and works for the welfare of the public, however,  BJP led by Prime Minister Narendra Modi is "waiving debt of their friends".
He said that just like AAP arranged funds for giving free electricity and constructing Mohalla Clinics in Punjab and Delhi after plugging corruption, they will provide all benefits to the people of Gujarat. Mann said that the Punjab government has stopped the multiple pensions to former MLAs and now the taxpayers' money is being used for public welfare.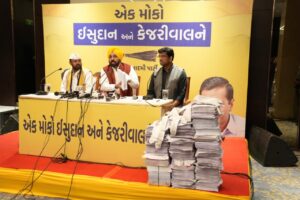 Expressing confidence of a landslide victory in the upcoming elections, CM Mann said that 6.5 crore people of Gujarat are ready for a change and AAP will form a government with a huge majority after ousting oppression and tyrannical rule of 27-year in Gujarat.
The Chief Minister said that despite ruling the state for the past 27 years, Gujarat's people are still deprived of basic facilities including good education and health facilities. Youths are unemployed and inflations are incessantly rising in the state but BJP did nothing to improve the situation and their leaders remained focused to fill their own coffers only.
Talking about the pro-people policies initiated by the Punjab government, the Chief Minister said that the state government has restored the old pension scheme for its employees, which was discontinued in 2004. Apart from this, six percent Dearness Allowance (DA) has been given to the employees so that the employees can be protected from the incessantly rising inflation.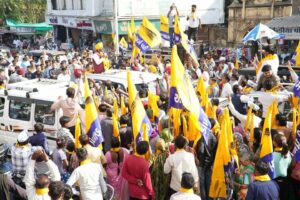 He said that similarly the state government has given more than 20,000 government jobs to the youth purely on merit basis. The process to regularize the jobs of 36,000 contractual employees in the state is underway. The 100 Aam Aadmi Clinics are functional in Punjab and the government will set up 400 more clinics before January 26, 2023 to deliver free treatment to people at their doorstep in Punjab.
A massive gathering of people in road shows, CM says Time has come to bring a change
Addressing massive gatherings during his road show here at Chanasma, Patan and Deesa, CM Mann reiterated that the AAP has adopted a zero tolerance against corruption and after coming to power, all the corrupt leaders will be taken to task for plundering the money of Gujarat's people and they will pay for their sins and dastardly regime.
He further asserted that the time has come now to bring a change into Gujarat politics and urged voters to cast their vote for betterment of their future. Mann assured to give employment, better health facilities, upgraded schools and infrastructure in the state after forming the government.
Urging voters to give them a chance to serve Gujarat, CM asked people to support AAP adding that even tree shed its leaves in every season and this time they should cast their vote for a change.