The Fact News Service
Gujarat, November 24
Punjab Chief Minister Bhagwant Mann on Thursday said that the people of Gujarat have made up their minds about ousting the ruling Bhartiya Janta Party (BJP), and have decided to give the Aam Aadmi Party (AAP) a chance to usher a new era of politics in the state.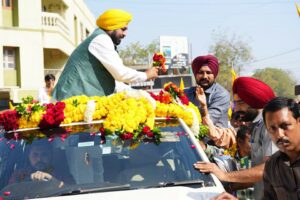 Addressing massive road shows in Nandod and Karjan here, Chief Minister Bhagwant Mann said that it is clear now that the people of Gujarat will collapse the fortress of BJP, which has been in power for the past 27 years, and AAP is heading towards forming a majority government in the upcoming assembly elections.
He said that unnerved BJP is trying to tarnish the clean image of the AAP by launching scurrilous campaigns against the AAP leaders. He stressed that AAP under the leadership of Arvind Kejriwal will clean the decade of filth with their honest and pro-people approach. All the corrupt leaders will be taken to task for looting the public money and filling their coffers for past decades, he added.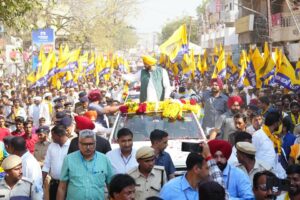 Slamming BJP for the miserable condition of the common man in the state, Bhagwant Mann said that the saffron party is responsible for plundering the wealth of the people. The people were deprived of basic facilities like education and health. But now people are ready to teach a lesson to BJP and voters eager to oust the 27-year of the dastardly regime in 27 minutes in the state assembly elections.
He said that just like Delhi and Punjab, the wind of change is prevailing in this state too. AAP will clean up the filth spread in the political arena with a broom across the country including Gujarat.
He said that Congress and BJP leaders have looted the money of the country far more mercilessly than even what the Britishers had done and said, "Pehle lade they goron se, ab ladenge choron se (First, we fought the British, now we will fight the thieves)," while urging people to end the inimical 27-year-old regime of BJP by giving a chance to honest AAP party under the leadership of supremo Arvind Kejriwal for a better future.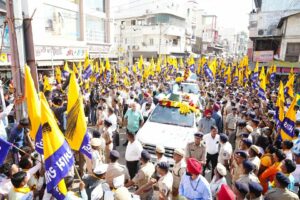 CM Mann said that AAP is a party of the common people. Only the sons and daughters from humble backgrounds will go to the assembly and the Lok Sabha from AAP.