The Fact News Service
Pathankot, September 5
In order to realise the commitment of Chief Minister Bhagwant Singh Mann to make Punjab a drug-free state by the next Independence Day, Director General of Police (DGP) Punjab Gaurav Yadav on Tuesday convened a crucial meeting with 44 Village Level Defence Committees (VLDCs) in Pathankot to devise a foolproof strategy to dismantle the drug supply network and curb drug smuggling.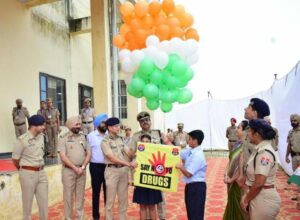 VLDCs, which act as 'eyes and ears' of security forces plays a vital role on ground in getting real-time info leading to disruption of drug networks.
Inviting all the VLDCs to work as cohesive teams, the DGP said that the Punjab Police have enforced a three-pronged strategy— Enforcement, De-addiction and Prevention— to completely root out the menace of drugs from the state. He was accompanied by IG Border Range Amritsar Narinder Bhargav,  DIG BSF Gurdaspur, Deputy Commissioner Pathankot Harbir Singh and SSP Pathankot Harkamal Preet Singh Khakh.
In a landmark moment, the 44 VLDCs of Pathankot have taken a resolute stand against drug-related issues and declared their villages "Drug-Free Zones". Representatives of VLDCs have vowed to work hand-in-hand with the Punjab Police to eradicate the drug menace from their communities.
As a symbol of empowerment and recognition, DGP Punjab Gaurav Yadav has bestowed VLDCs with new identification cards and unique jackets to facilitate their identification and collaboration with law enforcement. He also lauded the extraordinary dedication and courage displayed by VLDCs during a critical flood crisis and honoured two outstanding VLDC members for their exemplary service.
During the meeting, DGP Gaurav Yadav stressed the need to revive an old human intelligence through real-time collection and sharing of information, emphasising that collective efforts are instrumental in addressing border-related challenges.
He has also ordered to equip Village Police Officers (VPOs) with new beat books to streamline the sharing of vital drug-related information with the police and timely exchange of crucial intelligence between the community and law enforcement.
Pertinently, the DGP Punjab had already made a significant announcement by offering a reward of ₹1 lakh for individuals providing information on drone movements leading to the recovery of weapons or narcotics. This proactive measure aimed at curtailing illicit activities and enhancing security along the Punjab border.
Meanwhile, DGP Punjab Gaurav Yadav also inaugurated two newly constructed Police Stations— Sadar and Taragarh, reinforcing the commitment to providing a seamless and efficient policing experience to the general public. These modern facilities are poised to bolster law enforcement efforts and community safety.