Sardar Tarlochan Singh, a former member of the Rajya Sabha (Upper House of the Parliament) and former Chairman of the National Commission for minorities, is a tireless worker and a go-getter.
He achieved far beyond his call of duty in his career and in politics. One cold morning I arrived in New Delhi on my annual one-month sojourn in India. I was staying at my brother-in-law Sardar Surinder Singh Bindra's Punjabi Bagh, New Delhi residence from where out of sheer curiosity I made a phone call to Sardar Tarlochan Singh in his Minorities Commission Office.
He promptly invited me to his office, which was in Khan Market in Central Delhi. I took a taxi and reached his office. As usual, he met me very warmly and invited me to Amritsar, where the 200th Coronation Anniversary of Emperor Ranjit Singh was scheduled. I was wondering, if he was not a member of the Punjab Government and if this celebration was the brain child of Punjab leaders. So who authorized him to invite guests, those who know his style of functioning, believed that by his soft mannerism and power of persuasion, he endears himself to the authorities so much that he gets into their decision-making inner circle. Inviting people is no big thing for him.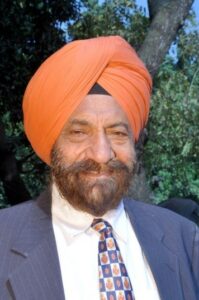 I asked S. Tarlochan Singh, in what capacity he was inviting me, and he told me that I was his guest. He said it unambiguously. Then I asked him who among the biggies will be in attendance. He told me that among the other dignitaries there will also be Shrimati Sushma Swaraj, the then Union Minister of Information and Broadcasting in 2002.
That was enough for me to accept his invitation. After reaching Chandigarh and after meeting my relatives, I decided to reach Amritsar.
My invitation was for attending a light and sound show written by Sardar Kartar Singh Duggal on the life and times of Emperor Ranjit Singh in the heritage Ram Bagh (Company Bagh) in Amritsar. True to my habit, I was late and had to stand among the spectators. One smartly dressed inspector-ranked police officer talked to me and asked could he help me. I asked him that I am an invitee of a person wearing a pink colored turban sitting in the front row and that was S. Tarlochan Singh.
He went to S. Tarlochan Singh and pointed out to him that someone in the crowd appears to be known to him. S. Tarlochan Singh looked at me and asked him to bring this man here and to seat him in the second row behind the VVIPs.
The inspector did exactly that, asked me to jump the rope, and seated me immediately behind him and Lady Sushma Swaraj.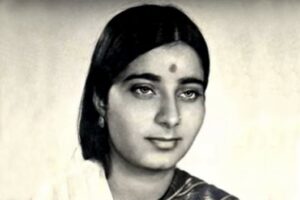 When the show ended, he asked me to talk directly to Lady Sushma Swaraj. I had only one minute. I asked her "Do you know that this city does not have the presence of Akashvani (All India Radio) since 1953"?. She got curious and asked me "Are you kidding, how come a city of the stature of Amritsar be devoid of the presence of All India Radio". I told her that since 1937 the local radio station in this city has been All India Radio turned Radio Pakistan Lahore and in 1948 All India Radio Jullundur – Amritsar went into operation and after five years, the Amritsar station, which could reach Lahore easily, was hurriedly taken off the air in 1953 for no reason.
Later on two Vividh Bharati Commercial Service stations were approved by the Government of India in 1964 for Amritsar and Chandigarh. The Chandigarh station went into operation, but due to the 1965 Indo-Pak War, the equipment for Amritsar was shifted to Jullundur, where a Vividh Bharati Radio Station is working since then. The one minute got stretched to five minutes and while parting Sushma Swaraj promised that on arrival in New Delhi, this project will be on top of her agenda. After that, I was totally out of contact with Lady Sushma Swaraj.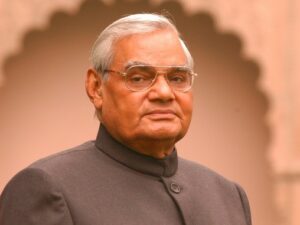 There was a regime change in 2004. Dr. Manmohan Singh became the Prime Minister of India, he replaced Atal Bihari Vajpayee of the BJP.
He was not alien to Punjab's financial difficulties and he never bothered the Government of Punjab to allot a suitable piece of land. He asked the Indian Army to spare a piece of land in Amritsar if they could.
The army gave a suitably sized piece of land and the project for a 300 + meter high tower (which is the most essential part of a powerful FM radio station) was designed. The best option should have been a reinforced cement concrete tower with the uppermost one hundred meters of steel.
A thick layer of reinforced cement concrete shell is much sturdier compared to all steel structures.
In case a concrete structure is hit by a plane, after the nose of the aircraft hits the concrete shell, the plane either moves to the right or left and falls on the ground. But in case it hits an all-steel or steel and glass structure, the plane can enter the structure by breaking glass and can generate so much heat that the steel pulverizes and collapses on the ground.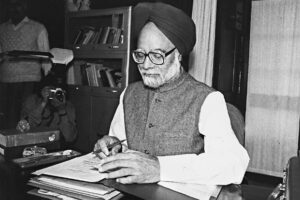 I had never seen Dr. Manmohan Singh, but have been in regular correspondence with him. He is a silent achiever. He does not believe in laying foundation stones in expensive functions and elaborate inaugural functions to generate publicity for self-aggrandizement.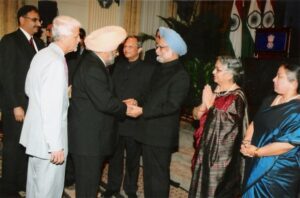 The first time I met him was in 2008, when close to the end of his first term, he visited The United States of America in connection with the United Nations General Assembly Session. During this trip, the Ambassador of India to the U.S.A threw a reception in honor of the Prime Minister. About four hundred guests from all over the U.S.A were invited. My name also popped up as an invitee. It was in the Hotel Waldorf Astoria in upscale Midtown Manhattan that I met him for the first time.
Finally work started on the construction of an all steel 300-meter high space frame structure in 2007, which went on at a snail's pace and was completed in 2013. Dr. Manmohan Singh's grand dreams about this ambitious project remained unfulfilled when in 2014, the ruling UPI coalition led by the Congress was replaced by a BJP-led NDA coalition under the leadership of Shri Narendra Modi.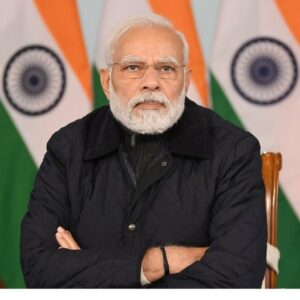 The new Shri Narendra Modi led BJP (NDA) government got the finished tower inspected by two authorities, out of which I shall trust the findings of the team of structural engineers of the IIT Roorkee (U.P.).
They found that the structure was slightly bent in its upper reaches. Rather than strengthening it in situ, by tightening the nuts and bolts and by welding the joints and increasing the base by adding newer and heavier load-bearing steel sections on an extended foundation on the ground to increase the base width for bringing its centre of gravity within the base, the Prasar Bharati authorities decided to go the expensive way by demolishing the upper eighty meters portion.
The height of the tower was brought down to 203 meters in 2020, after that the work was stopped due to Covid – 19.
In the meanwhile I kept pursuing the project singlehandedly. Then I started getting support from some well wishers of responsible spending. After publication of two investigative reports by Ashwine Singh of News Laundry in Hindi and Vivek Gupta of "The Wire" in English, it appears that things seem to be moving now.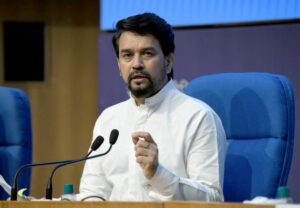 According to some reliable sources, the tower might be completed in 2023. Installation of the transmitting antenna by removing it from the short (100 meters tall) built in 2017 tower and installing it on the completed high tower will not be a big task.
I recommend two separate antennae, one for the full height tower and the other for the short tower for emergencies.
In order to send unhindered signal to the closely packed and difficult to cover down town area of Amritsar (around the Golden Temple), I am recommending the installation of two additional low powered (1 kilowatt power) each FM transmitters, one on the old (1973 built) tower in village Basarke Gillan in Amritsar West and a second one at one of the tallest residential towers in Manawala section of Amritsar East. These will take care of all the shadow areas. When in operation at full height and full power, the tall tower will cover the entire Old Pre-1947 Lahore Division comprising of the important districts of Gujjranwala, Sheikhupura, Sialkot, Gurdaspur, Amritsar and Lahore in both India and Pakistan.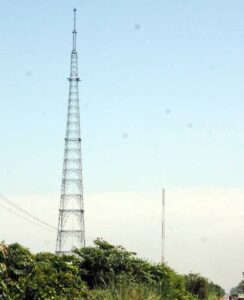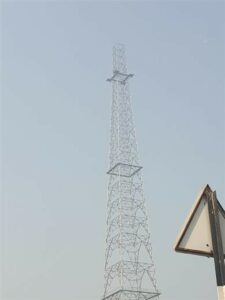 My lonely struggle to get justice for the un-served Majha districts of Tarntaran, Amritsar, Gurdaspur, and Pathankot will continue as long as I am alive.