The Fact News Service
Rupnagar, September 12
Punjab is the great land of martyrs, but during the tenure of the previous governments, this land came under the grip of drugs. But the people of Punjab gave a historic mandate and a government led by Bhagwant Singh Mann was formed in Punjab and the government has been working day and night for the eradication of drugs since the first day. Under the same series, an effort has been made to hold the games in the State and no effort will be spared to make Punjab the first in sports again.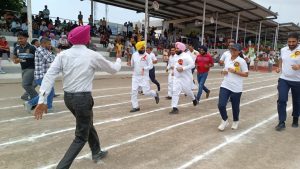 These views were expressed by the Education, Jails, Mining and Water Resources Minister, Harjot Singh Bains on the occasion of formal inauguration of the district level games at the Nehru Stadium, Rupnagar under the title of Khedan Watan Punjab Dian.
Addressing during the event, Bains said that Bhagwant Singh Mann is a honest Chief Minister, who is taking Punjab to great heights. He said that there are 28 lakh students in government schools of the state and all of them are special for him. Every student has some talent and they will be given every platform to showcase their talent.  Every facility will be provided to the students who wants to achieve their goal. No effort will be spared to make the government schools of Punjab even better than the private schools.  He said that about 10 thousand players participated in the block level games and there is a lot of enthusiasm among the players towards these games.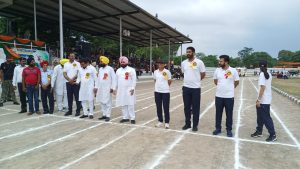 Harjot Singh Bains thanked the coaches and said that despite the limited resources, the coaches have worked hard to keep Punjab in the sports field, so far. He assured that the development of Rupnagar district is continuing on a large scale and Aam Aadmi clinics established in the district, which are being benefited by thousands of people daily.
Cabinet Minister Bains appealed to the players to participate in these games with the spirit of sportsmanship and shine the name of their district and further their state and country.
On this occasion, a badge-laying ceremony and a torch ceremony were also performed and a march past was also performed by the players. Under the formal inauguration of the Games, Cabinet Minister Harjot Singh Bains, MLA Rupnagar Constituency Dinesh Chadha, MLA Constituency Chamkaur Sahib Dr.  Charanjit Singh, officials and employees of the district administration participated in the show race.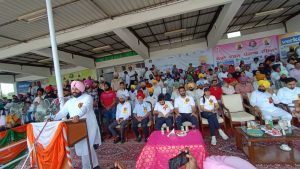 Cabinet Minister Bains met the players participating in the games and he also encouraged them and on this occasion Arjuna awardee, Olympian, former captain of the Indian hockey team and S. P.  (Headquarters) Rajpal Singh Hundal was also accompanied him.
Notably, the district-level tournament of Rupnagar district is being organized till September 22.
On this occasion Deputy Commissioner Dr.  Preeti Yadav, Additional Deputy Commissioner (Development) Damanjit Singh Mann, SDM Rupnagar Harbans Singh, Assistant Commissioner Deepankar Garg, PCS Harjot Kaur, District Sports Officer Rupesh Kumar, officials of various departments, a large number of players and spectators were present.