The Fact News Service
Jalandhar, March 30
The Aam Aadmi Party (AAP) criticised Modi led BJP government for their dictatorial attitude and said that today 'Modi Hatao, Desh Bachao' is the voice of every Indian. AAP said that the BJP government has failed our nation, constitution and the people at every front and to save our country Modi has to go.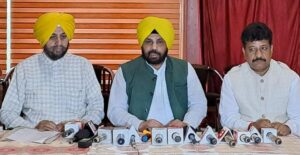 Addressing a press conference here in Jalandhar, on Thursday, AAP Punjab cabinet minister Harbhajan Singh ETO said that our martyrs sacrificed their lives to free our country not only from Britishers, but also from illiteracy, social divides and injustice. He said that Shaheed Bhagat Singh, Rajguru, Sukhdev, Lala Lajpat Rai, BK Dutt sacrificed their lives so that the people of our country can get education, health facilities, employment, equality and freedom of speech and expression. During the conference, MLA from Jalandhar Central Raman Arora and Atam Prakash Bablu, Joint Secretary, Punjab were also present.He added that the BJP government rule has dwarfed the British rule in India as 138 FIRs are registered just for putting up some posters. This is the dictatorial attitude of the Modi government and why shouldn't people say 'Modi Hatao Desh Bachao' when the Modi government has failed them at every step. Students, youth, farmers, small businessmen and women, no one feels safe in this Modi government and they see no future in it. Modi government failed to control the unemployment rate, corruption and inflation, and such a government has no right to continue.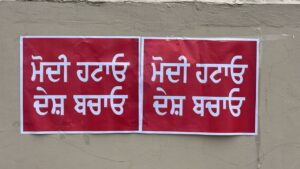 The AAP minister said that only capitalists are flourishing in Modi rule and PM should tell if his friend Adani will be investigated for his scams. He hit back at the BJP government for suppressing the voice of opposition leaders and threatening them with CBI and ED and said that the opposition leaders are also elected public representatives who have the right to express their views. He said that a leader like Manish Sisodia who was working for the betterment of children is in jail today when many corrupt BJP leaders are roaming free.He added that our national convenor Arvind Kejriwal and our Chief Minister Bhagwant Mann took this responsibility on their shoulders to educate every child, to provide world-class education in government schools because in the last 75 years previous governments did nothing but failed our martyrs and ruined their dreams.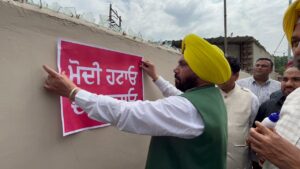 Harbhajan Singh ETO said that through the media he wants to tell Modi that our constitution begins with "We, the people of India,….", So, this country belongs to its people. About article 32 Dr B.R Ambedkar said that it is the soul of our constitution and every citizen has the right to speech and expression. We won't let the BJP disregard our constitution. Today we'll put posters of 'Modi Hatao Desh Bachao' in every corner of the country and they can file as many FIRs as they want. But we won't back down and we're not scared of their agencies or FIRs.