The Fact News Service
Chandigarh, September 2
Punjab Finance, Planning, Excise and Taxation Minister Advocate Harpal Singh Cheema said that 15,452 people downloaded the 'Mera Bill' app and 948 consumers also uploaded their bills on this app within a few hours of launch of scheme, as officials and employees of the Taxation department on Friday run a special awareness campaign under the 'Bill Liao, Inam Pao' scheme at more than 105 locations across the state to make people aware of this mobile application.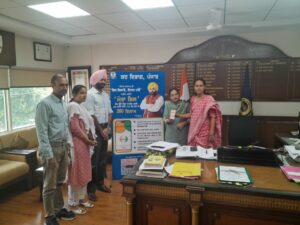 Disclosing this here today, Finance Minister Harpal Singh Cheema said that 'Mera Bill' App launched recently by the Chief Minister Bhagwant Singh Mann to encourage people to get a bill for every purchase has received a great response, and a number of people were downloading this app every hour. He said that during today's campaign, the Deputy Commissioner and SDM of all the districts also downloaded this app so that the message can be given to the common people to participate in this move aimed at strengthening of financial health of the state.
Thanking the people of the state for the overwhelming response to 'Mera Bill' app, the Finance Minister said that the consumers who would upload the purchase bill on the 'Mera Bill' app will be included in the lucky draw and this lucky draw will be held on the 7th of every month. He said that there are 29 taxation districts in the state and maximum 10 prizes will be given in each district, thus, 290 prizes will be given every month. The prize will be equivalent to five times the tax paid for the goods/services but the maximum value of prize would be equivalent to Rs.10000. He said that the list of winners will be published on the website of the taxation department and the winners will be notified through the mobile app. He said that bills of petroleum products (crude oil, petrol, diesel, aviation turbine fuel and natural gas) and liquor as well as business-to-business transactions will not be eligible to participate in the said scheme.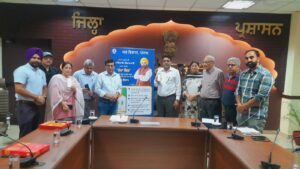 Giving a clarion call to the people to follow the tax laws and become important partners in the development of the state, Finance Minister Harpal Singh Cheema said that the message of tax compliance needs to be conveyed to every house so that the various schemes launched by the Chief Minister Bhagwant Singh Mann led Punjab Government to make the state 'Rangala Punjab' and for social welfare can get the required boost.