The Fact News Service
Ludhiana, September 20
20 countries watch Dr Aulakh's surgery live
Masterclass in uro-oncology and international live operative workshop for urological cancers was organised by safdarjang hospital in collaboration with SRS USA, Genitourinary cancer society of India.
Dr Baldev Singh Aulakh , Chief urologist and Transplant Surgeon, Aykai hospital Ludhiana was invited in this international conference to demonstrate and showcase live laparoscopic surgery of kidney cancer involving teaching and training of budding urologists all over the world. Dr Aulakh performed laparoscopic kidney cancer operation in safdarjang hospital which was beamed live on the screen to audience of thousands of urologists sitting in the Lalit hotel Delhi .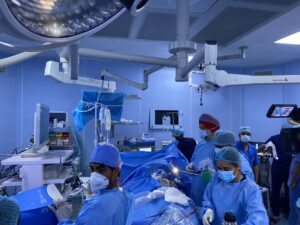 This operation performed by Dr Aulakh was also watched live on YouTube link , webcast and other platforms by nearly 3000 urologists in 20 different countries . Dr Aulakh taught about how to remove whole kidney cancer by key hole surgery without giving big cuts to patients, thereby patient enjoying painless, blood less surgery without big cuts and hence goes to work early.