The Fact News Service
Ludhiana, January 24
The Additional Director General of Police (security) Sudhanshu Srivastava on Tuesday took stock of security preparedness ahead of 74th Republic day celebrations and directed the officials to beef up safety measures in the city, especially at all vulnerable places.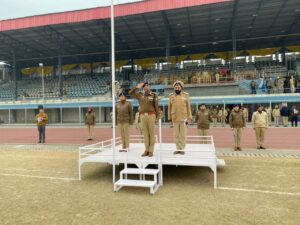 While visiting some of the key locations of Ludhiana, the ADGP reiterated the firm commitment of the Punjab Police to maintain law at every cost and said that the sole aim of inspecting the arrangements was to make the security system more responsive and efficient. He assured the people that foolproof security cover had already been put in place by Commissionerate Police and no one would be allowed to take the law into its hands.
Srivastava further mentioned that surprise visits are being conducted by the senior officials regularly to cross-check the security arrangements at vulnerable places adding that field officials must keep a close tab on these locations besides ensuring monitoring of criminals on bail. He motivated the sub-divisional ACPs and SHOs to do proactive policing and ensure peace in the area.
Later, ADGP also presided over a meeting with the GO rank officials where he asked the officials were emphasized to ensure round-the-clock patrolling at public places so as to maintain the law and order situation in the wake of Republic Day. He said police teams/PCR staff were asked to monitor and patrol the city around the clock.