The Fact News Service
SAS Nagar, September  12
A man can achieve a big goal with his perseverance and hard work.  You are all natives of Punjab, and the Punjabis are known for their hard work who have marked their identity in every field at the national and international level.  I have full hope that in the next few years the players of Punjab will raise the name of their state and country in the whole world by winning medals at the national and international level.  This is the first time that this large-scale sports tournament is being organized by the Aam Aadmi Party government in the state.  This statement was made by Madam Anmol Gagan Mann, Minister of Tourism and Culture Affairs, Investment Promotion, Labour and Grievance Redressal today at Multi-Purpose Sports Stadium Sector 78 of SAS Nagar   while inaugurating the district level tournaments under 'Khedan Watan Punjab Deyan 2022' being organized by the Punjab Government.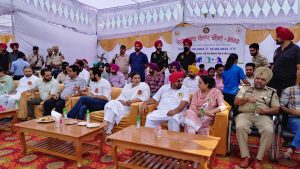 Gurmeet Singh Meet Hayer Sports Minister also participated in this event.  He encouraged the children and said that such an environment for sports had never been created in Punjab before.  He said that the success of these games can be estimated from the fact that in the block where there were not more than 200 players, now about 3500 players have been registered in these games at the block level, while in Derabasi block alone 4200 players have registered themselves for particiapting in the games.  He congratulated the district administration, coaches, teachers and district sports department for successfully organizing these games.  He said that seeing the enthusiasm of the players, we hope that in the next 5-7 years, big players of international level will emerge from Punjab.  He said that the Aam Aadmi Party government is trying day and night to revive the spirit of sports in Punjab and we hope that Punjab will soon become the number one state in the field of sports in India.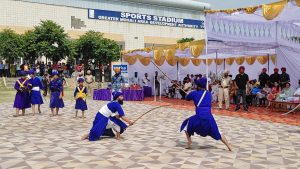 On this occasion, MLA Derabassi  Kuljit Singh Randhawa also addressed and congratulated the participating players, coaches and their teachers.  Deputy Commissioner Amit Talwar welcomed the chief guest and special guests who arrived at the function on this occasion.  An oath was also taken by the players for the purpose of playing games with sportsmanship.  During the program, a cultural program was also presented by Jugni Culture and Welfare Club, under which Punjab's martial art Gatke performance and Bhangra, Giddha were also presented.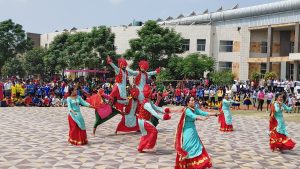 On this occasion, Additional Deputy Commissioner Amaninder Kaur Brar, Additional Deputy Commissioner ( Urban Development) Pooja S Grewal, Additional Deputy Commissioner (Rural Development) Avneet Kaur, SDM Mohali Sarabjit Kaur, District Sports Officer Gurdeep Kaur, Chairman of Youth Development and Sports Board Parminder Singh Goldi,  Aam Aadmi Party district in-charge Madam Prabhjot Kaur, school students, coaches, teachers and city residents were present in large numbers.