The Fact News Service
Chandigarh, January 10
Taking a path-breaking initiative towards providing quality, nutritious and hygienic food to around 11 lakh beneficiaries in Anganwari centres, the state government led Punjab Chief Minister Bhagwant Mann today inked a strategic tie-up between Social Security, Women and Child Development department and Markfed to supply dry ration.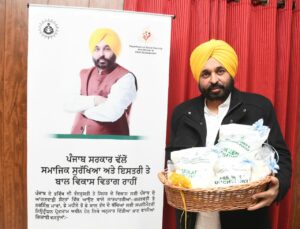 As per this agreement, the Markfed will supply the dry ration in form of besan, wheat flour and other commodities to the department of Social Welfare, Women and Child development to prepare nutritious food to the beneficiaries in Anganwari centres and other places.
Congratulating both the departments, the Chief Minister said that this historic initiative is aimed at ensuring hygienic and quality food to the children in Anganwaris centre along with the food given to the pregnant women, lactating mothers and others. Bhagwant Mann said that he had been a votary of providing quality food to the students during Mid Day Meal and Anganwaris, for which this step has been taken. He said that the state government is committed to the holistic development of the children in the state.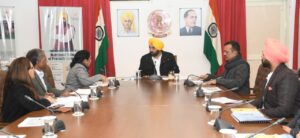 The Chief Minister said that this unprecedented tie up between Marked and the department will ensure smooth, hassle-free and time-bound supply of ration to the Anganwaris. He said that besides ensuring the welfare of the women and children, the agreement will also help in further expansion of Markfed- the premier cooperative of the state thereby strengthening the cooperative movement in Punjab. Bhagwant Mann said that earlier a number of complaints used to pour in regarding the poor quality of the ration being supplied in these centres. "However this tie up will ensure that the best quality of ration is supplied through the Markfed thereby ensuring holistic growth of children and women", he added.