The Fact News Service
Chandigarh, June 1
Gurmeet Singh Khudian, the newly inducted Cabinet Minister of Punjab, on Thursday took charge as Agriculture and Farmers Welfare, Animal Husbandry, Fisheries and Dairy Development and Food Processing Minister at the Punjab Civil Secretariat, Chandigarh.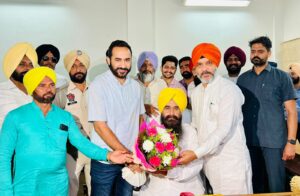 Khudian assumed office in the presence of Cabinet Ministers Gurmeet Singh Meet Hayer, Aman Arora, Chetan Singh Jauramajra, Kuldeep Singh Dhaliwal and Bram Shankar Jimpa and MLAs Jagroop Singh Gill, Prof Baljinder Kaur, Gurdit Singh Sekhon, Rajneesh Dahia, Jagdeep Goldy Kamboj, Amansher Singh Sherry Kalsi, Manjinder Singh Lalpura, Amandeep Goldy Musafir, Narinder Pal Singh Savna, Devinder Singh Laddy Dhons and Sarwan Singh Dhun.
In an informal interaction with the media persons, Gurmeet Singh Khudian thanked the party's national convener Arvind Kejriwal and Chief Minister Bhagwant Mann for handing over the new responsibility and said that he will fulfil this responsibility with diligence and honesty. He further said that the state government led by Chief Minister Bhagwant Mann is giving special priority to the Agriculture sector and is making continuous efforts for the welfare of farmers. He said that he will work hard to carry forward the works initiated by the government.
 On this occasion, the party officials and workers from Lambi Constituency expressed their gratitude to the National Convener Arvind Kejriwal and Chief Minister Bhagwant Mann for giving the responsibility of important departments related to rural areas and farmers to MLA from Lambi Constituency Khudian.