The Fact News Service
Gujarat, November 25
Hitting out the BJP government in Gujarat, Punjab Chief Minister Bhagwant Mann on Friday said that Gujarat wants a "new Arvind Kejriwal engine government" not the "double-engine" as both the engines are 40-50 years old. He urged people to give a chance to the Aam Aadmi Party (AAP) in the upcoming assembly elections.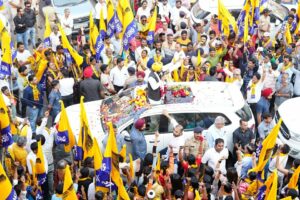 Addressing massive road shows in Bardoli here, Chief Minister Bhagwant Mann said that there is a wave of change in the state. These people sing praises about the double-engine government but this time people of Gujarat do not need a double-engine but a new engine of Kejriwal, which will bring development and eradicate unemployment as well as corruption from the state.
Urging people to give a chance to AAP, Mann said that after forming the government in the state, AAP will usher a new era of politics in the state and all the corrupt leaders will be taken to task for plundering the public money and filling their own coffers for past decades.
He said that the overwhelming response of people in his roadshows is proof that people are eager to repeat the history of Delhi and Punjab in the state. This time common people will collapse the political fortress of the BJP, which has been in power for the past 27 years.
The Chief Minister said that BJP has been running the government in Gujarat for decades in dearth of any substitute. The people were deprived of basic facilities like education and health. But now people are ready to teach a lesson to BJP in the upcoming assembly elections.
He stressed that AAP will clean up the filth spread in the political arena with a broom across the country including Gujarat. In December AAP will form a pro-people government in the state. CM Mann said that its contest is not against Congress or BJP but AAP's fight is against corruption, unemployment, rising inflation, paper leak and lack of basic amenities for people in the state.