The Fact News Service
Jalandhar, October 12
Punjab Food Civil Supplies Minister Lal Chand Kataruchak on Wednesday said that paddy procurement operations were being carried out seamlessly with making payments to farmers within hours after their crops is purchased.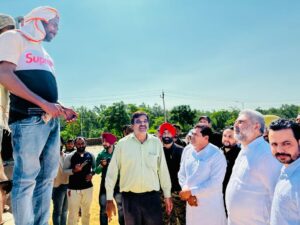 So far, over 13.25 lakh MT paddy has been brought in mandis by state farmers across Punjab of which more than 12.50 lakh MT is procured with disbursements of more than Rs 1325 crore to the farmers in their accounts.
While reviewing the procurement at local grain market, the Minister stated it was first time in the state that farmers were getting payments against their crops within a few hours of procurement. He said earlier during previous governments, the farmers had to wait a long for their payments and timely procurement.
The Chief Minister Bhagwant Mann accorded foremost priority to ensure hassle free procurement vis-a-vis providing payments to the peasantry, said the Minister adding the Aam Aadmi Party government was making payments within ten hours.
The Minister met the farmers, labourers and traders in the mandi to know the any issue if they have. The labourers apprised the minister that all requisite arrangements had been made available in the mandi while the farmers expressed immense satisfaction over timely purchase of their crops and payments.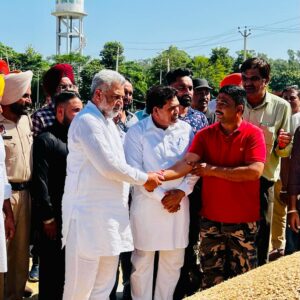 Kataruchak took a round of mandi to inspect the heaps of paddy brought by the farmers besides checking the information about the moisture content, which is within prescribed limit.
The Minister referring to a media query pointed out that the Chief Minister had already announced the girdawari of crops damaged due to unseasonal rains. He said that after completion of the reports related to girdawari adequate compensation would be released by the government. In another query regarding the police remand of former minister Bharat Bhushan Ashu in an alleged scam, The Minister said that investigation was going on on the matter and whosoever would be found indulged in corrupt practices, they have to face the action as per law. He asserted that Bhagwant Mann government had adopted a zero tolerance against corruption in a real sense which was the fact in public domain.
The Minister also stated that the Punjab Government is fully prepared to purchase the crop of sugarcane growers with Chief Minister issued directions to the crushing mills. Kataruchak also listed landmark initiatives of  the Aam Aadmi Party's Government including 18000 jobs in different departments, initiated the process to regularize the services of contractual employees, issuing notification to confirm 8700 teachers besides 600 free power units resulting in zero electricity bills to 47 lakh families in Punjab.
Earlier, Lal Chand Kataruchak along with officers concerned got the heaps of crops brought by farmers namely Gurdev Singh of village Tehang and Maninder Singh of Motipur villages procured. He accompanied by Aam Aadmi Party leader Prem Kumar, also interacted with both farmers who appreciated the procurement process.