The Fact News Service
Chandigarh, September 19
During the last rites of Prof BC Verma, father of Punjab Chief Secretary Anurag Verma, a large number of prominent personalities including Cabinet Ministers of Punjab paid their respects to the departed soul.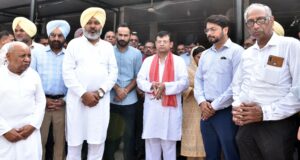 On behalf of the Punjab Government, Cabinet Ministers Harpal Singh Cheema and Gurmeet Singh Meet Hayer and on behalf of the Chief Minister, his OSD Rajbir Singh Ghuman offered tributes by placing a wreath. On this occasion, Cabinet Ministers Aman Arora, Lal Chand Kataruchak, Bram Shankar Jimpa and Balkar Singh also shared their grief with Verma.
 Prof. BC Verma, who was 89 years old, passed away this morning at P.G.I. Chandigarh after a brief illness. Prof. Verma's funeral pyre was lit by his two sons Anurag Verma and Ashish Verma during his last rites at the cremation ground in Sector 25.
Cabinet Ministers, MLAs, Chief Minister Office officials, Punjab and Haryana High Court Judges, Civil, Police and Army officials, U.T. administration officials, retired officers, Advocates and representatives of the Press, leaders of various political parties, social organizations and secretariat officials and employees were also present at the Occasion.
 On this occasion, Chief Minister's OSD (Media) Adil Azmi, OSD (PR) Manjit Sidhu, Director Media Relations Baltej Singh Pannu, Adviser to UT Administrator Dharam Pal, IAS Officers Association President Tejveer Singh on behalf of the assosiation, D.G.P. Gaurav Yadav, Vigilance Director Varinder Kumar, Advocate General Vinod Ghai, Secretary DIPR Malwinder Singh Jaggi on behalf of Information and Public Relations Department also shared their grief with the family while paying tribute to the departed soul.