The Fact News Service
Chandigarh, November 10
Punjab Chief Minister Bhagwant Mann on Thursday said that the ethos of brotherhood and communal harmony as preached by Sri Guru Nanak Dev ji is most relevant in contemporary materialistic world.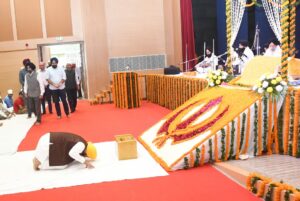 Paying reverence before Sri Guru Granth Sahib at Punjab Raj Bhawan during a function to observe Prakash Purab of Sri Guru Nanak Dev ji, the Chief Minister said that Guru Sahab ji was a great spiritual ambassador who guided humanity to attain salvation by spreading the cult of devotion to God. He said that Guru Ji's eternal teachings of 'Kirat Karo, Naam Japo and Vand Chako' are still relevant in the present materialistic society. Bhagwant Mann said that Sri Guru Nanak Dev ji motivated mankind with new ideas, aims, and aspirations and called upon it to dispense with the maladies of hypocrisy, falsehood, pretensions and caste-prejudices.
Urging the people to imbibe the spirit of service and humility as preached by the Great Guru, the Chief Minister said that Sri Guru Nanak Dev ji envisioned a casteless society free from rituals, thereby redeeming the suffering humanity from the pangs of agony. The Chief Minister said that through his Udaasis Guru Nanak Dev ji, who is revered across the globe as Jagat Guru, preached communal harmony and brotherhood. Likewise, Bhagwant Mann said that Guru Nanak Dev ji through his teachings opposed tyranny, injustice and oppression.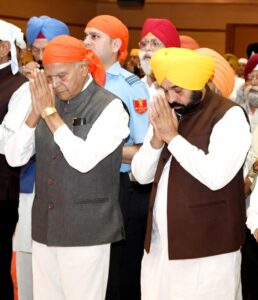 Quoting verse 'Pawan Guru, Paani Pitaah, Mata Dharat Mahat' from Gurbani, the Chief Minister said that Guru ji have equated Air (pawan) with teacher, Water (paani) with father and Land (dharat) with mother. Bhagwant Mann said that Guru ji had at that time taught the people to preserve environment when its pollution nowhere in scene.
Lauding the Governor of Punjab for organising the event to observe Prakash Purab, the Chief Minister said that the Governor and Administrator of Chandigarh Banwari lal Purohit ji has always remained on forefront to observe religious and social events.
Extending warm greetings on the occasion, Governor Banwari Lal Purohit stressed upon to follow teachings of Guru Sahab. Citing a brief glimpse of Guru Sahib' life, he said that the birth and early years of Guru Nanak Dev ji's life were marked with many events that demonstrated that Guru Sahab had been blessed with divine grace.