The Fact News Service
Chandigarh, December 20
Minister of Social Security, Women and Child Development Dr. Baljit Kaur on Tuesday said that the Chief Minister Bhagwant Mann-led Punjab Government is committed to give recognition to entrepreneurs who have contributed significantly to the progress of the state. She was a Chief Guest at an event "The Careers of Punjab, Shaping Future 2022" at a hotel here.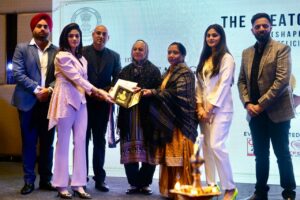 Dr. Baljit Kaur, while addressing the gathering, said that only Punjabis born on the land of Punjab can think about the progress of the state. Appreciating the contribution made by the young entrepreneurs of Punjab, she said that every youth of Punjab wants to go and get employment in foreign countries.
"It is matter of pride for Punjab that you are contributing to the progress of the state by staying in Punjab, when many people are preferring to settle abroad," she said.
Terming society is incomplete without women, Dr. Baljit Kaur said that everyone should respect the contribution of women in the society. "Instead of recognizing women by her dress, we all should maintain her dignity," she added.
She said that male-dominated era was thing of past now, now women are participating more in every field. This is a high time for women to participate in every field, she added.
On this occasion, Dr Baljit Kaur also honoured entrepreneurs who achieved high positions in various fields.
Chairman of Ludhiana Improvemat Trust Mr. Tarsem Singh Bhinder was present during the event.