The Fact News Service
Chandigarh, June 2
Social Justice, Empowerment, and Minorities Minister Dr. Baljit Kaur on Friday handed over the appointment letters to newly selected 25 clerks in the Social Justice, Empowerment and Minorities Department at her office in Punjab Civil Secretariat, Chandigarh.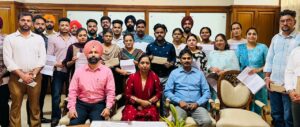 Congratulating the newly appointed employees, the Cabinet Minister emphasized the importance of working diligently and sincerely to increase public confidence in Government offices.
The state Government led by Chief Minister Bhagwant Mann prioritizes providing employment opportunities to the youth. The Minister further stated that Government will continue to create more job opportunities for the youth in the state.
The Cabinet Minister appealed to the newly appointed clerks to carry out their duties in the interest of the public with diligence and sincerity. She emphasized that their dedicated service could contribute to the welfare of society.
On this occasion, Additional Chief Secretary of Social Justice, Empowerment, and Minorities Ramesh Kumar Genta, Director of Social Justice, Empowerment, and Minorities Department, Jaspreet Singh and Superintendent Amarjit Kaur were present.