The Fact News Service
Chandigarh, December 6
Under the leadership of Deputy Speaker of the Punjab Vidhan Sabha. S. Jai Krishan Singh Rauri, the Vidhan Sabha today paid tributes to Baba sahib Dr. Bhim Rao Ambedkar on the occasion of Mahaparinirvan Divas.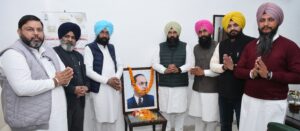 While pointing out the role played by Dr. Ambedkar in Drafting the Indian Constitution Rauri said that Dr. Ambedkar make certain the abolition of untouchability. He also ensured comprehensive the civil liberties, economic – social rights for women and made constitutional provision for the welfare of Scheduled Castes, Scheduled Tribes and other backward classes.
On this occasion, Harmeet Singh Pathanmajra, Aman Sher Singh Sheri Kalsi, Amolak Singh, Balkar Singh Sidhu, Gurpreet Bassi Gogi, Jagtar Singh Dayalpur, Dr. Kashmira Singh Sohal, Santosh Kumari Kataria, Kulwant Singh Sandhu, Raman Arora (all MLAs) and Secretary of Vidhan Sabha Surinder Pal Singh were also present.