P S Walia
Kapurthala, January 26
67 officials/ employees awarded with appreciation letters for distinguish services
Holiday declared in schools on January 27
Deputy Commissioner Kapurthala Vishesh Sarangal today hoisted National Flag at Guru Nanak Stadium and took salute at impressive March past by contingents of Punjab police, NCC cadets and school children .
Addressing District level Republic Day function here , Deputy Commissioner congratulated the people of the nation and termed the day as historic as our nation becomes Republic by adopting constitution on this very day.
He said that it was the result of great hardwork of drafting committee under the able leadership of Dr B R Ambedkar that our constitution untied the nation.
Hailing the role played by the people of Punjab in freedom struggle, Deputy Commissioner salutes the land of Doaba Region , where Gadar movements originated.
Talking about the development of Kapurthala district under the leadership of Chief Minister Bhagwant Mann , Deputy commissioner said that the medical college at Kapurthala would be a game changer for this area. It may be mentioned here that the medical college to be named after Guru Nanak Dev ji would be established with nearly Rs. 450 crore in 20 acres.
He further said that the to develop the Sultanpur Lodhi as religious tourist destination , the Work on 4 lanning of Kapurthala – Sultanpur Lodhi Road via Fattu Dhingha and Dadwindi – Sultanpur Lodhi is going on war footing .
Besides that the work on preservation of historic Qila Sarai at Sultanpur Lodhi by Punjab Tourism development board was under process, he added.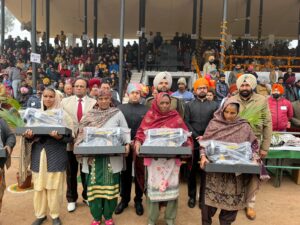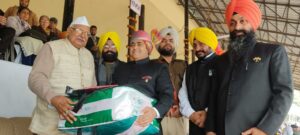 He also announced that new 14 Aam Aadmi clinics would be launched in the district on January 27 to ensure delivery of quality healthcare services at the doorstep. He said that 75 new model ponds would be established in villages across the district during the year 2023.
Earlier contingents of Punjab police , NCC took part in the march past . Besides that families of freedom fighters were also honoured by the Deputy Commissioner.
He also announced the holiday in schools across the district on January 27.
Deputy Commissioner also awarded appreciation letters to 67 officials/ employees and people who worked for betterment of the society.
Prominent amongst others present on the occasion included SSP Navneet Singh Bains , Chairperson District Planning Board Lalita Siklani , ADC Sagar Setia and SDM Lal Vishwash Bains .