The Fact News Service
Chandigarh, January 10
Punjab Finance Minister Advocate Harpal Singh Cheema said on Tuesday that the total credit potential for priority sector for 2023-24 is projected at Rs 2.73 lakh crore which represents an overall growth of 5 percent over the projections for 2022-23.

Revealing this while addressing the NABARD 'State Credit Seminar 2023-24', Finance Minister Harpal Singh Cheema said that out of the aggregate credit plan, the share of Crop Loan is pegged at Rs 1.03 lakh crore (38%), Agriculture Term Loan at Rs 0.52 lakh crore (19%) and MSME at Rs 0.71 lakh crore (26%) and Other Priority Sector (OPS) at Rs 0.47 lakh crore (17%).
Releasing the State Focus Paper (SFP) 2023-24 and Unit Cost Booklet on this occasion, the Finance Minister said that NABARD has undertaken the exercise of assessing the potential for credit under priority sector for each district in consultation and coordination with banks, Line departments of the State Government, farmers, NGOs and other stakeholders. "These plans have been aggregated at the state level and SFP has been prepared which reflects the aggregate potential available under various subsectors of Priority Sector of the State's economy. This is quite an elaborate exercise which will provide inputs and pointers to various stakeholders", he added.
The Finance Minister further added that it is a matter of satisfaction that the SFP emphasises on development of the cooperative sector, crop diversification, promotion of organic farming, development of the Farmers' Producers' Organization (FPOs), promotion of digital technological innovations in agriculture and "Fintech", which will provide necessary fillip to inclusive growth and sustainable development in the State. He said that it is the need of the hour that these producer organizations are supported further within the agri-value chain system.
Emphasising on the continuous need for widening and deepening of the credit outreach, especially to small and marginal farmers, sharecroppers and tenant farmers, Advocate Harpal Singh Cheema said that although the priority sector lending has shown a healthy growth of 8% with Ground Level Credit (GLC) of Rs 1.71 lakh crore during FY 2022, the grass root institutions such as Self Help Groups (SHGs), Joint Liability Groups (JLGs) and Primary Agricultural Credit Societies (PACS) have to play an important role to bring about the required change. He advised the Regional Rural Banks (RRBs), Cooperative Banks and PACS, which are closely linked to grass-level clients, to play big role in promotion of SHGs and JLGs while utilising available support from NABARD.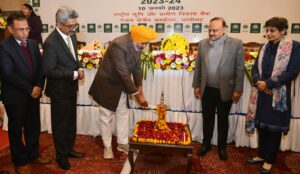 Meanwhile, Finance Minister Harpal Singh Cheema bestowed the awards to best-performing FPOs and SHGs.
Prominent amongst others, Ajoy Kumar Sinha, Principal Secretary of Finance, Garima Singh, Secretary Finance Cum Director of Institutional Finance and Banking, M.K. Mall, Regional Director RBI, and Raghunath B., CGM NABARD Punjab Regional Office were also present on the occasion.