The Fact News Service
Chandigarh, January 3
Launching a direct tirade against the drug menace in the state, Punjab Chief Minister Bhagwant Mann on Tuesday directed the officers to confiscate the property of those involved in the heinous crime of drug peddling.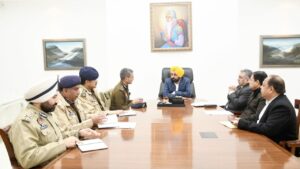 Chairing a meeting here to review law and order situation in the state, the Chief Minister reiterated the firm commitment of the state government to wipe out the scourge of drugs from the state. He said that the state government has already put the big fish involved in drug peddling behind the bars. Bhagwant Mann said that to ensure further stern action the property of these drug peddlers must be seized with immediate effect.
The Chief Minister said that necessary amendments, if any required, in the requisite laws will be duly made. He said that the officer in who's jurisdiction drug is sold will be held accountable for this lapse. Bhagwant Mann said that severest of severe action will be taken against the officers found indulged in drugs.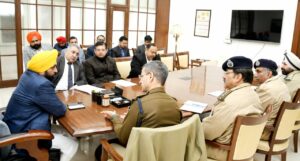 The Chief Minister also asked the officers to ensure that the villagers unanimously pass resolutions for making their villages drug free. Bhagwant Mann said that these villages are incentivised by giving grants under the Rural Development Fund and others. He also said that the security of these villages passing the resolution will also be ensured by all means.