The Fact News Service
Chandigarh, November 10
Twenty-nine-year-old, Trishneet Arora, an entrepreneur who at a young age established TAC Security, now a Silicon Valley-based global cyber security firm, met Chief Minister Bhagwant Mann at his residence here.
In September, Trishneet Arora was invited to share the dais with Chief Minister Mann at the Innovation Punjab Summit held in Mohali, where Trishneet Arora shared his concerns of the state with public and industry leaders in the presence of Chief Minister Mann.
Trishneet mentioned that large e-startup companies like Flipkart, Zomato and Ola founders belong to Punjab but wished to operate from other states. It led to revenue, employment, ecosystem loss for Punjab.
During a meeting with Chief Minister Bhagwant Mann and TAC Security's team led by Trishneet Arora, the concerns towards Punjab were raised again.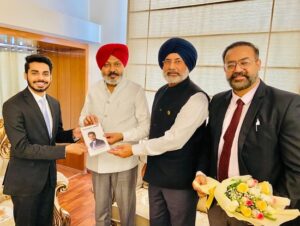 Trishneet Arora urged the CM to subsidize the IT industry in Punjab, to boost the economy, employment and infrastructure.
Chief Minister Mann requested Trishneet Arora to endorse the state nationally and internationally, as he holds credibility and people would like to hear from Trishneet instead of the government on this matter.
"CM Mann has an opportunity to build New Punjab by boosting entrepreneurship, innovation and ease of business in the State," said Trishneet Arora after the meeting.
TAC Security's CEO Trishneet Arora also proposed to the CM, Rs 10 lakh interest-free loan from the government to youngsters who have business ideas and proper plans with research to get them executed with government support. It would boost the employment-generating ecosystem along with revenue generation.
General IS Singha, Director Global and Govt Affairs, and Gourav Mahajan, Vice President at TAC Security presented the book 'Trishneet Arora – The Magic of Leadership' written by Prof Cyrus MR Gonda to Chief Minister Shri Bhagwant Mann.
Before meeting the Chief Minister at his residence in Chandigarh, young entrepreneur Trishneet Arora, founder and CEO of TAC Security along with his leadership team were called on by Punjab's Finance, Planning, Excise and Taxation Minister Harpal Singh Cheema at his official residence here.
In his statement, Finance Minister Cheema said: "The Punjab Government is working to create a dynamic check against cyber frauds and has been using modern cyber security measures for its online payment methods and various services"
He strongly believes that strengthening the cyber security system would also benefit in maintaining the law and order situation in the state.