The Fact News Service
Chandigarh, January 12
Punjab Finance, Excise and Taxation Minister Advocate Harpal Singh Cheema on Wednesday conducted the surprise checking of attendance of Excise and Taxation Officers (ETOs) and Excise Inspectors posted at various Distilleries and Bottling plants through the real time based E-surveillance system of the Excise department.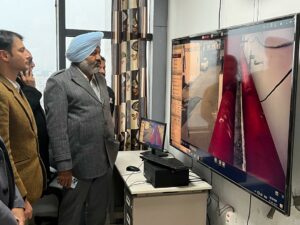 Finance Minister Harpal Singh Cheema, who was at the Excise and Taxation Bhawan to launch official jacket for Excise Enforcement Officers, visited the control room being operated at Head Office, Mohali to review the real time based E-surveillance of manufacturing units of Distilleries, Breweries and Bottling plants through CCTV Cameras. The Minister also checked the attendance of Excise Inspectors and Excise Officers posted in these units and directed strict disciplinary action against absentees. He said that the Chief Minister Bhagwant Mann led Punjab Government would not tolerate any kind of negligence by any government official or employee in the course of their duty.
Earlier, fulfilling the long pending demand of officers of Excise Department, Harpal Singh Cheema launched the official jacket for the officers of the Excise Department including Excise Inspectors, Excise Officers and aboveTheses half jackets carries logo of Excise Department as well as Punjab Government besides having the light reflecting stripes for safety reasons while conducting nakas and raids during night. The officers of the department carrying out Excise Enforcement Activities had been demanding the roll out of such official jackets or dress since long back.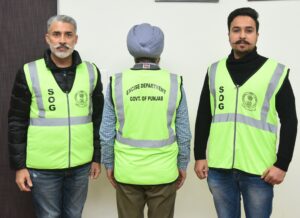 The Excise and Taxation Minister said that the officers of the Excise Department were facing operational difficulties in past while carrying out the enforcement activities due to lack of official recognition in absence of any official dress. He directed all the officers including Excise Inspectors and above to wear this half jacket during Nakas and Raids from now onwards.
The Minister Harpal Singh Cheema reitreated the commitment of the Punjab Government to secure targeted Excise revenue on the one side and further strengthening the Excise Enforcement efforts to curb the menace of smuggling of liquor and distillation of illicit liquor.