Chandigarh, November 7
Homeland Chandigarh Horse Show concluded on Sunday. The week-long horse show ended with Derby Day. For the first time in India, the concept of Derby event was introduced at the Horse Show in Chandigarh. It is a European concept that involves horse jumping on a kilometer track with lots of ups and downs. Derby event is held to test the stamina of the horse as well as the rider. 50% of the jumps in it are natural and 50% are man-made. The results of today's 'Chandigarh Derby' event were as follows: 1st place Constable Ajay Marathe, 2nd place Head Constable Sandeep Singh, 3rd place Head Constable Gurjeet Singh.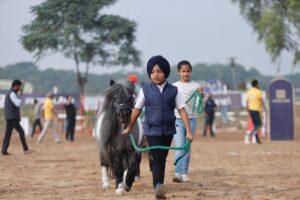 On the last day, Punjab Speaker Kultar Singh Sandhwan was the special guest. A special horse parade was also organized in which Miniature Horses took part. These miniature horses were traditional Gypsy cob stallions imported from Ireland, Miniature Shetland imported from Scotland and pure Arabian breed imported from France. A fashion show was also organized in the evening at the end of the Chandigarh Horse Show in which miniature horses walked the ramp along with the models.
Results:
Successive Relay
1. Birkunwar
2. Fatehjit Singh
3. Azadnoor Singh
(All from PPS Nabha)