The Fact News Service
Moga, November 3
Taking serious note of the complaints of registrations being done without NOC in some cases in Moga district, Harbhajan Singh, Cabinet Minister of Public Works Department and Power Department has summoned the record of registrations done during the last three months.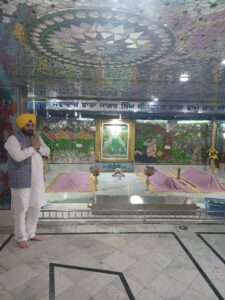 He instructed Deputy Commissioner Kulwant Singh to check these registries in which cases registrations have been done without NOC and how these were done. He said that it has been found that in some cases registrations are being done even without NOC while in some cases it is being denied.
He came here today to take stock of the progress of development works and public welfare works in the district. Manjit Singh Bilaspur MLA Nihal Singh Wala, Mr Gulneet Singh Khurana SSP Moga, Charumita SDM Dharamkot and other officers were present in the meeting.
He instructed the officers to ensure coordination with the MLAs to carry out development works and public interest works in a better way.  The administration should work as a team with elected representatives.  He said that the Punjab government led by Mr Bhagwant Singh Maan is working for the comprehensive development of the state which is not possible without the involvement of the MLAs.
Cabinet Minister announced that the ongoing work would be completed immediately.  He said that ponds will be cleaned under MGNREGA in every village.  Strict action should be taken against the contractors who delay government development works unnecessarily.
He said that new transformers will be installed on overloaded grids to smoothen the power supply in district Moga. A report was also sought on the installation of CCTV in government schools.  He clarified that the number of students from government schools should not decrease under any circumstances.  He directed the health department officials to display the list of all the hospitals where Ayushman Bharat Health Insurance Scheme cards are valid.
He said that the previous government had upgraded the schools during the last time, but neither staff nor basic facilities were provided there, but now these schools are being upgraded in the right way.  He directed that the maximum benefit of Scholarship schemes should be given to school children.
The education department was instructed that all schools must have toilets.  He asked the District Employment Officer to provide employment opportunities to as many youths as possible and make them employable.
Earlier, Cabinet Minister Harbhajan Singh paid obeisance at the shrine of Faqar Baba Damu Shah Ji at village Luhara.