The Fact News Service
Chennai, June 1
Delhi Chief Minister Arvind Kejriwal and Punjab CM Bhagwant Mann reached Chennai. They were welcomed by party workers and ministers of Tamil Nadu there.
Delhi Chief Minister Arvind Kejriwal will meet his Tamil Nadu counterpart MK Stalin on Thursday, to seek support against the Centre's Ordinance on control over administrative services in the national capital.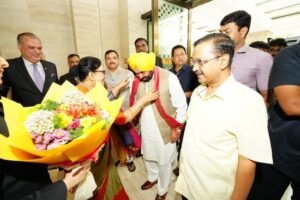 Taking to Twitter on Wednesday, the Aam Aadmi Party (AAP) chief stated, "Will be meeting Tamil Nadu CM MK Stalin in Chennai tomorrow (1st June) to seek DMK's support against Centre's unconstitutional-undemocratic 'Anti-Delhi' Ordinance". Notably, Kejriwal had on May 23 embarked on a nationwide tour to seek support from the Opposition parties against the Ordinance.
Kejriwal will meet Jharkhand Chief Minister Hemant Soren on June 2.
"On June 2, I will meet the Chief Minister of Jharkhand Hemant Soren ji in Ranchi. Will seek their support against the ordinance passed by the Modi government against the people of Delhi," he said in a subsequent tweet.
The AAP national convenor has so far met West Bengal Chief Minister Mamata Banerjee, former Maharashtra CM Uddhav Thackeray, Nationalist Congress Party (NCP) supremo Sharad Pawar, Bihar CM Nitish Kumar and his deputy Tejashwi Yadav.
The Union government on May 19 brought an ordinance to notify rules for the Government of National Capital Territory of Delhi (GNCTD) regarding the 'transfer posting, vigilance and other incidental matters'.
The ordinance was brought to amend the Government of National Capital Territory of Delhi Act, 1991 and it circumvents the Supreme Court judgement in the Centre vs Delhi case.