The Fact News Service
SAS Nagar, September 21
A One-day Outreach & Consultation Workshop on Bridging the Gap between Industry and Academia in Pharmaceuticals and Chemicals Sector was held in Mohali today. It was organized by Punjab Bureau of Investment Promotion (PBIP)- Invest Punjab at the National Institute of Pharmaceutical Education and Research (NIPER).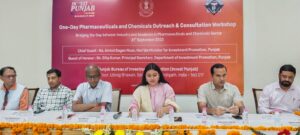 Addressing the experts from industry and academia in pharmaceutical and chemical sector present in this workshop, Ms Anmol Gagan Maan exhorted the industry to collaborate with academia and invest more in Research & Development Facilities in Punjab to make it globally competitive with companies such as Moderna, Pfizer, among others.
Additionally, Principal Secretary, Investment Promotion Dilip Kumar stated that this workshop is a unique initiative by the Government of Punjab and such workshops should be conducted regularly across various institutes in Punjab. He called upon academia to play a more proactive role in curating such platforms. Furthermore, CEO, Invest Punjab has also appealed all industry participants to give their feedback to the recently released Draft Industrial and Business Development Policy 2022.
The event drew participation from 100+ dignitaries, which included 65+ participants from industries and 10+ participants from 9 major pharmaceutical and chemical institutions from across Punjab, who came together to bridge current gaps between industry and academia to create a conducive business and research ecosystem for the sector in Punjab.
In his welcome address, Kamal Kishore Yadav, CEO, Invest Punjab greeted the Chief Guest, Anmol Gagan Mann, Minister of Investment Promotion, Govt. of Punjab and the Guest of Honor, Dilip Kumar, Principal Secretary, Department of Investment Promotion, Govt. of Punjab.
Following a warm welcome to the participants by the Minister, Interactive sessions across groups of Industry, Academics/ Professionals and Government stakeholders were organized to discuss industry requirements and facilities available in Punjab.
In the forenoon session, Industry pioneers such as Dr. AH Khan, VP Regulatory Affairs, Sun Pharma India, Sanjay Chaturvedi, CEO, IOL Chemicals & Pharma, Jagdeep Singh, President, Punjab Drug Manufacturers Association (PDMA) among others presented their requirements & expectations from academia, and the government. While distinguished representatives from the academia like Prof. Dulal Panda, Director, NIPER, Mohali, Dr. Sanjeev Khosla, Director, CSIR-Institute of Microbial Technology, Chandigarh among others presented and discussed research facilities available for the industry across academic institutions in Punjab.
In the post-noon session, issues related to pharmaceutical education, training and skill development in Punjab were discussed. Ramesh Arora, Managing Director, Kwality Pharmaceuticals Pvt Ltd, Amritsar stated the opportunities and challenges in the Pharmaceutical Sector in the next 5 years detailing the skilled workforce requirements of the pharma industry. Additionally, representatives from NIPER, IISER and INST deliberated on the Training and Skill Development Capabilities present in Punjab. The session ended with strategies to align industry needs and pharma education from Manoj Sharma, Country Head & CEO, Centrient Pharma and Sunil Deshmukh, CEO, Ind-Swift Labs, Mohali.
The participants expressed wide appreciation for this initiative by the Punjab Government and acknowledged the efforts made by PBIP to bridge any gaps between the industry and the academia for creating a conducive business and research environment for the sector within Punjab.