The Fact News Service
Chandigarh, November 4
Ambassador of the Czech Republic in India Dr. Eliska Zigova today called on Punjab Vidhan Sabha Speaker. Kultar Singh Sandhwan, during which both emphasized on strengthening the mutual cooperation between Punjab and the Czech Republic.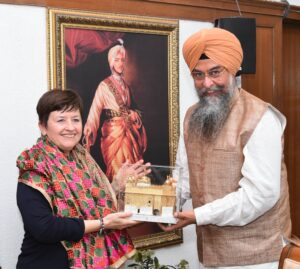 During the meeting in the Punjab Vidhan Sabha, Sandhawan recalled the contribution made by Czechoslovakia in Punjab's green revolution. He emphasized for solid collaboration in agriculture sector between Punjab and Czech Republic. Winter wheat, winter barley, spring barley, potatoes, maize and fruit are grown in the Czech Republic. This cultivation is similar to Punjab, so both can benefited from mutual exchange of knowledge and technology.  Sandhwan also emphasized on cooperation between Punjab and the Czech Republic in the field of industry. The Czech Republic has a special place in the car industry, aviation, engineering, environmental technology, medical equipment, electronics and electrical engineering, chemical and pharmaceutical industry. S. Sandhwan has asked to Dr. Zigova to motivate the Czech Republic companies to invest in Punjab.
During the meeting  Sandhwan also suggested that legislatures of Punjab and Czech Republic should visit each other countries in addition to increasing exchanges in the field of arts, culture and sports. Dr. Zigova agreed the same.
During the discussion, Dr. Zigova spoke about the historical ties between the Czech Republic and India and recalled the historic relations between the two countries. She said that increasing mutual cooperation between the Czech Republic and Punjab will benefit both of them because they have many similarities. She also praised the fighting spirit of Punjabis. Sandhwan also presented a shawl and a commemorative plaque to Dr. Zigova.