The Fact News Service
Chandigarh, June 2
The Department of Horticulture, Government of Punjab organized Agriculture Infrastructure Fund (AIF) conclave at MGSIPA, Sec-26 Chandigarh, to share progress made by the state during last financial year (2022-23) and recognize the contributions made by Government as well as Private sector stakeholders for promotion of AIF scheme in the state of Punjab.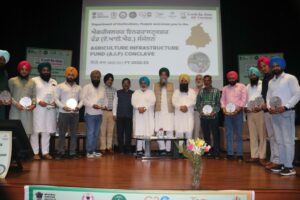 It is pertinent to mention here that AIF scheme launched by the Ministry of Agriculture & Farmers Welfare, Government of India was launched in July 2020. The objective of the AIF scheme is to create post-harvest management infrastructure across agriculture and horticulture value chains. The Department of Horticulture, Government of Punjab is the state nodal agency to implement AIF scheme in the state.
 The cabinet minister for horticulture Chetan Singh Jauramajra said taking forward the vision of Chief Minister Bhagwant Mann to increase farmers' income , Punjab has made tremendous progress under the AIF Scheme , wherein investment worth more than INR 2877 crore has been attracted from 3480 projects, during the last financial year (2022-23). Loans worth Rs. 720 crores have already been sanctioned, out of which loans worth Rs. 591 crores have already been disbursed by various lending institutions. Leading districts in availing the benefits of the scheme from Punjab are Bathinda (326), Sangrur(326), Patiala (315), Sri Muktsar Sahib (294) and Fazilka (283).
 Jauramajra informed that Major agricultural infrastructures created in the State through the scheme includes Cold Rooms & Cold Stores, Primary processing Centers, Custom Hiring Centers, Warehouses, Sorting & grading unit, and Solar Panels on existing agriculture infrastructures. Punjab currently stands at 11th position across 35 states and UTs participating in the implementation of the scheme. (As on 31st March 2023).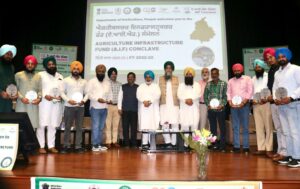 Talking about the progress under AIF scheme in Punjab in the current year the Minister said there is consistent upward trend for the past one year. The recent figure of total applications uploaded on AIF portal from Punjab is more than 5500 and project investment more than INR 3300 crore has been attracted. As I understand from the deliberations as part of AIF conclave today, this scheme has helped micro, small & medium entrepreneurs to set up projects closer to production areas.
 During the AIF conclave, top performing districts and banks were felicitated. District Patiala is recognized with highest sanctioned amount of project loans under AIF Scheme, State Bank of India received felicitation for highest amount of loans sanctioned and disposing maximum applications within stipulated period of 60 days. In the category of stipulated time period, Union Bank of India and Punjab Gramin Bank have also been felicitated. The district in-charge from Department of Horticulture in Bathinda and Sangrur have been felicitated for extraordinary effort in creating awareness and uploading maximum applications on AIF portal. The Punjab National Bank has been felicitated for encouraging the diversity of projects under AIF scheme. The Managing Director of Moga District Central Cooperative Bank along with DDM NABARD have been recognized for supporting maximum cooperative societies in Punjab.
 In addition to above categories, the nodal officers of other schemes like PMFME, NHM, PMKSY and MoNRE, Sh Rajnish Tuli, Sh SK Dubey, Smt. Shailendra Kaur, Sh MK Singh respectively have been recognized for their contributions.
Pilot Farmers from Ferozpur under project PHASE, which was launched by Government of Punjab on 17th March 2023, were falicitated for encouraging efforts in development of Chili cluster.
Towards the end, Kultar Singh Sandhwan, Speaker Punjab Vidhan Sabha, expressed an urgent need to progressively work together in order to bring more benefits to farming and entrepreneurs' community of Punjab.
 Minister Horticulture, Chetan Singh Jouramajra, while appreciating the efforts of all stakeholders re-assured commitment of Department of Horticulture to take the agenda of diversification forward and create sustainable linkages for the farmers.
 Speaking at the occasion, Minister Agriculture & Farmers welfare, Gurmeet Singh Khuddian congratulated the Department of Horticulture on achieving remarkable success during last financial year under AIF scheme and expressed keenness to closely monitor progress in current financial year.
 The Additional Chief Secretary (ACS) KAP Sinha (IAS) recognized the effort made by state nodal agency i.e. Department of Horticulture and suggested to take cluster development approach to fill the gaps in value chain. The speakers emphasized the need to seek convergence with other schemes so that central and state level schemes can be leveraged for larger good of public of Punjab.
 There has been tremendous encouragement from the State Government Leadership, to launch initiatives like project PHASE (Punjab Horticulture Advancement and Sustainable Entrepreneurship) which will not only increase utilization of AIF scheme in Punjab but also create specific crop clusters. The seeds of project PHASE were sown in November 2022, during a state level AIF conference, where Kultar Singh Sandhwan visualized the role of Horticulture sector as a game changer for the state of Punjab. Under the able leadership of Horticulture Minister Chetan Singh Jouramajra & Agriculture Minister Gurmeet Singh Khuddian, Punjab is set to achieve new heights as far as diversified crop value chains and agribusiness is concerned.
 AIF conclave was attended by Kultar Singh Sandhwan, Speaker Punjab Vidhan Sabha, Minister Horticulture, Chetan Singh Jouramajra, Minister Agriculture & Farmers Welfare and Food Processing, Gurmeet Singh Khuddian along with officers, K.A.P. Sinha, IAS, Additional Chief Secretary (ACS) cum Financial Commissioner, Horticulture, Anurag Agarwal, IAS, Additional Chief Secretary (ACS) cum Financial Commissioner Cooperation, Arshdeep Singh Thind, Secretary-Horticulture, Karnail Singh, IAS, MD Punjab Agro Industries Corporation, Girish Dayalan, IAS, MD Markfed, Dr. Sukhpal Singh, Chairman, Punjab State Farmers Commission and  Samuel Praveen Kumar, Joint Secretary, Ministry of Agriculture, Government of India. The state level representatives of banking & other lending institutions and concerned officials from the private and non-government sector, were also present during the event.
Highlights of the AIF Scheme in Punjab
* More than 61% projects are in investment range of less than INR 25 Lakh
* More than 16% projects are in investment range of INR 25 Lakh to INR 50 Lakh
* About 5% projects are in investment range of INR 50 Lakh to INR 1 Crore
* About 4% projects are in investment range of INR 1 Crore to INR 1.5 Crore
* About 4% projects are in the investment range of INR 1.5 Crore to INR 2 Crore
* About 9% projects have invested more than INR 2 crore