The Fact News Service
Gujarat, November 29
Punjab Chief Minister Bhagwant Mann on Tuesday asserted that the Aam Aadmi Party (AAP) will form a government with a huge majority in Gujarat when the results of the Assembly elections to be declared on December 8.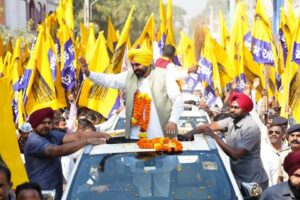 Addressing massive gatherings in different road shows today including at Limbdi, Botad, Surender Nagar, Dasada, Viramgam and Botad, the Chief Minister Mann said that this time people of Gujarat will vote to bring a change in the system. They will not decide the fate of contesting politicians, but their own selves.
He said that just like people of Delhi and Punjab voted for a change, people of Gujarat are eager to bring a change in the state by ending 27-year long rule of BJP and usher a new era of politics for a better future for their children.
Lashing out at the ruling BJP government, CM Mann said that despite ruling the state for the past 27 years, Gujarat's people are still deprived of basic facilities including good education and health facilities. Youths are unemployed and inflations are incessantly rising in the state but BJP did nothing to improve the situation and their leaders remained focused to fill their own coffers only. Now, the time has come and people of the state will teach a lesson to these corrupt people and common people will collapse the political fortress of the BJP.
He said that that BJP has been running the government in Gujarat for decades in dearth of any substitute. But now people have an option to choose an honest government of AAP, which will not only bring development, new schools and top-class health facilities to people but also ensure that these corrupt leaders must pay for their sins.
He said that Congress and BJP leaders have looted the money of the country far more mercilessly than even what the Britishers had done. However, after forming the government in the state, AAP will work dedicatedly for the inclusive development of Gujarat under the leadership of party supremo Arvind Kejriwal, Mann added.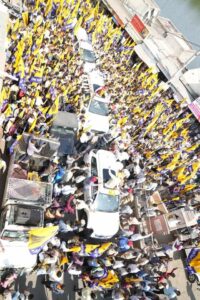 He stressed that AAP will clean up the filth spread in the political arena with a broom across the country including Gujarat. CM Mann said that its contest is not against Congress or BJP but AAP's fight is against corruption, unemployment, rising inflation, paper leak and lack of basic amenities for people in the state.