P .S .Walia
Kapurthala, February 28
Forty Seven vehicles including 35 two wheelers mostly motorcycles were destroyed in an accident fire inside police station at Subhanpur situated on Jalandhar -Amritsar National Highway near here this afternoon.
Senior Superientendent of Police Rajpal Singh Sandhu told factnews that vehicles caught fire from the sparking of a transformer near police station and fire tenders of Kapurthala and Hamira extinguished the fire after a struggle of an hour. The entire police was engulfed in flames which reduced the vehicles to ashes.
SSP said that most of the vehicles were the case property of accidents and some vehicles belonged to private persons as there was parking outside police station.
IMG_8006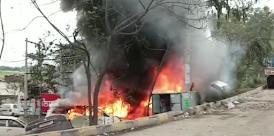 He said the exact loss is yet to be ascertained.
SP(Investigation) Harvinder Singh rushed to spot to ascertain the damage caused to vehicles.