The Fact News Service
SAS Nagar, September 29
The 115th birth anniversary of Shaheed-e-Azam Sardar Bhagat Singh was celebrated with full devotion and enthusiasm by the district administration SAS Nagar. In this regard, a special programme was organized in the morning at the District Administrative Complex, during which guard of honour was presented to the picture of Shaheed-e-Azam by the jawans of the District Police, whereas a bicycle rally dedicated to the birth anniversary of Bhagat Singh was taken out by school students volunteers from Nehru Yuva Kendra, District Red Cross, Youth organisations & cycle clubs. MLA Kulwant Singh attended the event as the chief guest while Deputy Commissioner Mr. Amit Talwar, SSP Vivek Sheel Soni along with all district administrative officers and a large number of school students, teachers and dignitaries were present on the occasion.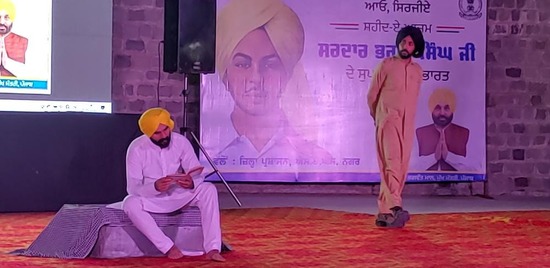 While giving information in this regard, the official spokesperson said that the district administration SAS Nagar had organized series of programmes dedicated to the 115th birth anniversary of Shaheed e Azam S Bhagat Singh.  As part of the programme conducted in the morning, a bicycle rally was organized with a guard of honour for Shaheed e Azam.  The ceremony of flagging off the bicycle rally was done by the MLA Kulwant Singh.
On this occasion, offering flowers of devotion, to Bhagat Singh, MLA Kulwant Singh said that Shaheed-e-Azam at a young age sacrificed his life for the freedom of the country by laughing and kissing the hanging rope.  On this occasion, he gave a message to the people that we should follow the legacy of our martyrs and make our children aware of their sacrifices.  Meanwhile, he congratulated all the district residents on Bhagat Singh's birthday. Apart from this, he also thanked the central government for renaming the Mohali International Airport after the name of Shaheed Bhagat Singh.