The Fact News Service
Chandigarh, January 17
Chief Minister Bhagwant Mann-led Punjab government has taken another step to prepare the new agricultural policy of the state and has constituted an 11-member committee of agricultural experts. A notification has been issued in this regard.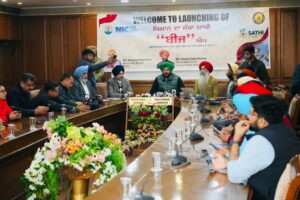 Addressing a press conference at Punjab Bhavan here today, Punjab Agriculture and Farmers Welfare Minister Kuldeep Singh Dhaliwal informed that the new agricultural policy for Punjab will be prepared by March 31. He said that the Punjab government has been making continuous efforts to improve the welfare of the farmers and the agricultural system of the state.
He said that in this 11-member committee, Secretary Agriculture Rahul Tiwari as member, Chairman Punjab State Farmers and Farm Workers Commission Dr.  Sukhpal Singh as Convener, Vice Chancellor PAU. Ludhiana Dr. SS Gosal, Vice Chancellor Guru Angad Dev Veterinary and Animal Sciences University Ludhiana Dr. Inderjit Singh, Economist Dr. Sucha Singh Gill, Former Vice Chancellor Punjabi University Patiala Dr. BS rotation, Former Director Horticulture Punjab Dr. Gurkanwal Singh, Advisor Punjab Water Control and Development Authority Rajesh Vashisht, Former Director Agriculture Punjab Dr. Balwinder Singh Sidhu, President PAU. Kisan Club Amarinder Singh and Chairman Panseed Mahinder Singh Sidhu have been included as members.
The Agriculture Minister said that the first government-farmer meeting would be held on February 12, 2023. He said that this meeting would be held at Agricultural University Ludhiana, and Chief Minister Bhagwant Mann would be chief guest. He said that more than 2500 progressive farmers from every corner of Punjab would participate in this meeting. He said that during this meeting farmers will discuss agricultural policy and their valuable suggestions will be taken.
The Agriculture Minister said that the Punjab government has been drafting the new agricultural policy keeping in mind the natural resources of Punjab such as groundwater, soil health and geographical conditions. He said that in order to improve the economic condition of farmers in the new agricultural policy, special attention will be given to aspects such as valuation of agricultural produce, export and agricultural diversification. The new agricultural policy will also include a proposal to adopt basmati as a substitute for parmal paddy and promote basmati exports.
Dhaliwal emphasized that Punjab has been facing an environmental and health crisis, in which fertile land has been turning into non-fertile land and the amount of poisons in groundwater is increasing day by day.
The Agriculture Minister further said that under the new agricultural policy, the surplus water of the rivers is being considered to be delivered to every farm in Punjab.
On this occasion, Dhaliwal also released the seed production portal and app, providing an online facility to the farmers. He said that through this the farmers of the state will be able to get online information about the availability and varieties of seeds. He said that the purpose of this app is to make the Punjab State Seed Certification Organization online and paperless and to implement the annual calendar for seed certification. He said that through this app, seed tracking, quality authentication, seeds Complete information regarding the production, certification and sampling will be available.
On this occasion, Secretary of Agriculture Arshdeep Singh Thind, Director of Agriculture Dr. Gurwinder Singh Director Punjab State Seed Certification Authority Dr. JPS Grewal, Dr.  JDS Gill and senior officials of the Agriculture Department were also present.