The Fact News Service
Chandigarh, July 22
Joint Government Doctors Coordinating Committee (JGDCC), held an emergency meeting in Chandigarh recently on the issue of privatisation policy of government and reduction of NPA of doctors.  All the associations of Medical and Veterinary doctors from all over Punjab in JGDCC attended the meeting and decided that all the Medical and Veterinary doctors of the state would gather at civil hospital Phase 6 in Mohali on July 23 to march peacefully towards the residence of the Punjab Chief Minister.
The Joint Committee members Dr. Gagandeep Singh President, PCMSA, Dr. Sarabjit Singh Randhawa President, Veterinary Officers Association, Dr. Gaggandip Singh Shergill Senior Vice President PCMSA Dr. Pawanpreet Kaur President, Dental Association, Dr. Sanjeev Pathak President, Ayurvedic Association and Dr. Balwinder Singh, President, Homoeopathic Association, shared that despite repeated requests, the government is not resolving the NPA issue of doctors and the government's attitude has flared up the anger of all streams of doctors of the state.
Dr. Jagjit Singh Bajwa, President Rural Medical Officers Association said that his organization fully support the joint coordination committee and all the rural medical officers of the state will join the protest March in Mohali on the 23rd and they have taken stock of the situation by holding a meeting.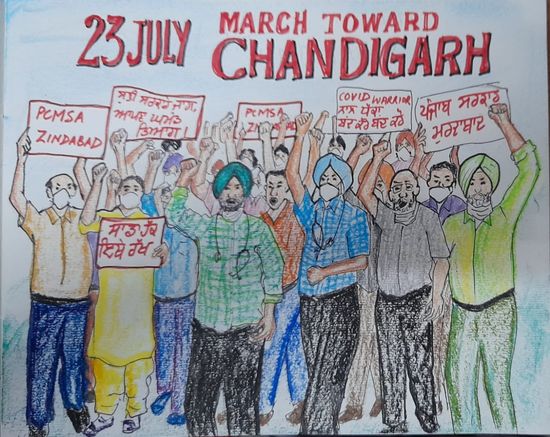 Dr. Inderveer Singh Gill Convener, Coordinating Committee, Dr. Manohar Singh General Secretary PCMS Association and Dr. Darshan Kheri General Secretary Punjab State Veterinary Officers Association said that the doctors' strike is aimed at protecting the public health and veterinary system and the Coordination Committee strongly opposes the privatization policy being pursued by the government. He said that it was due to this policy of the government that the educated doctors of the state were being forced to go abroad through brain drain. He further said that all the Medical and Veterinary doctors of the state have been given the slogan "Let's go to Chandigarh on the 23rd" and they have made war-like preparations in this regard. It is estimated that around 5000 doctors across the state will participate in this march. The Coordination Committee has already intimated through email the Mohali and Chandigarh civil and police administrations about their protest on 23rd July.
It may be recalled that in the recommendations of the Sixth Pay Commission issued by the government, the non-practicing allowance(NPA) already available to doctors was reduced from 25 per cent to 20 per cent and excluded from the basic pay, which was opposed by all sections of doctors in the state and doctors are on path of struggle since then.