The Fact News Service
Mohali, October 12
After the recent rise in dengue fever cases, the district health department has intensified its anti-larvae checking to curb the spread of the disease. A total of 13 anti-dengue teams of the district health department have been conducting door-to-door surveys, checking and awareness activities since March.
Civil Surgeon Dr. Adarshpal Kaur and District Epidemiologist Dr. Vikrant Nagra on Monday visited Phase 10, 11 and Fatehullapur village and inspected the survey and checking drive and gave necessary instructions to the teams. Health officials inspected the coolers, fridge trays, pots, empty tires etc in houses. The Civil Surgeon said that larvae were found in five houses in Phase-10 and one in Phase 11 while larvae were also found in five houses in Fatehullapur. A total of 6 challans were issued to the violators while the first-time offenders were given stern warning. She appealed to people to not let water stagnate anywhere as mosquitoes hatch eggs wherever they find stagnant water, including water-filled containers and abandoned tires in and around households.
Dr. Adarshpal Kaur said that the district health department has been making all out efforts to control the spread of dengue fever and the teams of the health department are working diligently to save the people from this deadly disease. She appealed to the residents to support the anti-dengue drive of the health department as it is for their well-being only. During the visit, the health officials appealed to the people not to allow standing water in and around their homes and also apprised them of other necessary precautions. Dr. Adarshpal Kaur said that wherever there is a case of dengue, fogging is done in coordination with the Municipal Corporation and the health department carries out a survey, inspection and awareness drive.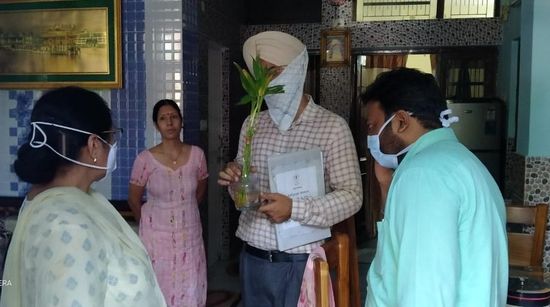 She clarified that the fogging work is done only by the Local bodies Department. "The number of anti-larvae teams has been increased as our primary aim is to check the spread of vector-borne diseases." asserted Dr Adarshpal Kaur. She said that people generally think that dengue mosquitoes do not spread due to the cooling of the weather these days while it is not true as there is a risk of developing dengue mosquitoes these days. People should be fully vigilant and alert to dengue till November 30. Dengue testing and treatment is free at government hospitals. For any information, the health department's helpline number 104 can be contacted.
Dengue Symptoms
Sudden high fever
Severe headache
Severe joints and muscle pain
Skin rash
Do's
Remove water from coolers and other small containers at least once a week.
Keep overhead tanks covered
Drain off water from the back tray of the refrigerator every week.
Use mosquito nets or mosquito repellents while sleeping during daytime.
Dont's
Do not wear clothes that expose your arms and legs, especially during the rainy season.
Children should not be allowed to play in shorts and half sleeved clothes.
Do not allow water to stagnate in bird feeding pots.
Do not leave toilet pots uncovered while going out of station.
Do not use vessels below flowerpots during these months as water stagnates in them if left unchanged.